Voices Exhibition - Changemakers 2023
Saturday 25th February 2023 to Saturday 1st April 2023
Lancaster Maritime Museum, LA1 1RB

Back
"Voices" is an exhibition of 3 Black artists from across the UK, Wesley George, Ivy Kalungi and Akinsola Lawanson, were selected by young curators as part of the Changemakers 2023.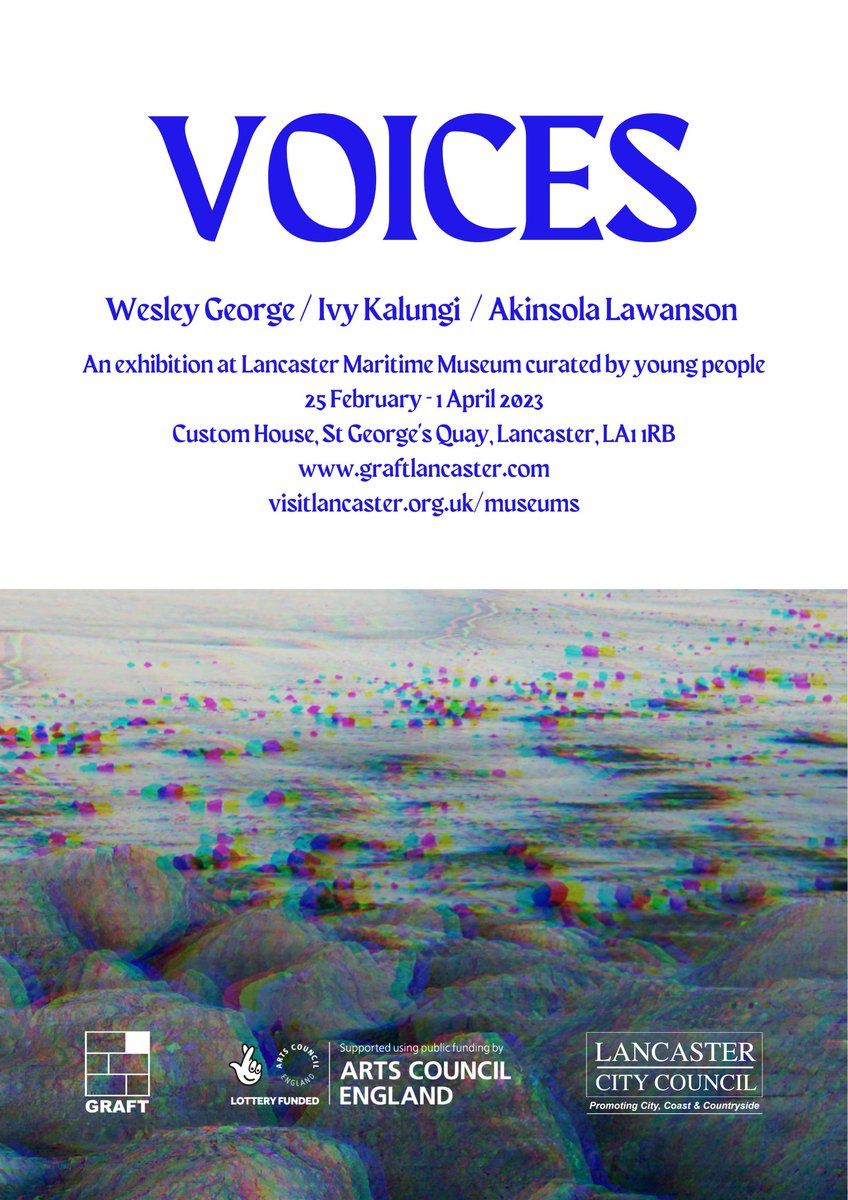 In October 2022, GRAFT worked with young people at Lancaster Youth Challenge to consider Lancaster's historic connections to the transatlantic slave trade. We ran 4 workshops in collaboration with Lancaster Maritime Museum and Lancaster Black History Group.
The result is "Voices", an exhibition of 3 Black artists from across the UK. Exhibiting artists - Wesley George, Ivy Kalungi and Akinsola Lawanson - were selected by the young curators. Their works are installed alongside the collection at the Maritime Museum, celebrating diverse young talent as well as highlighting Lancaster's role in the slave trade.

Exhibition Info
On from Saturday 25th February to Saturday 1st April 2023

Lancaster Maritime Museum
Custom House, St George's Quay, Lancaster, LA1 1RB

Find out more about Lancaster Maritime Museum and opening times here.

More about the Artists
Wesley George (b. 2000) of Vincentian and English heritage lives and works in London. As a self-taught British artist, George is known for his naturalistic portraits of Black sitters against vibrant block-coloured backgrounds. Taking his friends from London as his primary subjects, and presenting them in a candid and uplifting manner, George seeks to shed light on the overlooked narratives of Black subjects throughout history and society. George emphasises the importance of cultural heritage and the need for unification of society through his choice of subjects and his eye-catching colour palette. Another crucial feature throughout his portraiture is the inclusion of elements from urban culture, such as popular street wear and symbolism. By combining these elements with his subjects of today, George creates a unique visual syntax which presents complex narratives on an engaging and relatable level. In turn, George's work prompts the viewer to reflect on the lives and stories of the people around them.
The impact of Ivy Kalungi's upbringing allowed her to explore ideas around migration, identity construction and symbolism which developed her own personal philosophy. Because of the duality of this diasporic selfhood, She has found herself in a condition of persistent hybridity, a constant oscillation between cultures, regions, and identities.
Akinsola Lawanson is a British-Nigerian multi- disciplinary artist based in London. Through different mediums such as moving image, video game engines and motorised sculptures; their practice examines a variety of themes including relational systems, digital technologies and process philosophy. Akinsola recently graduated from Goldsmiths University in 2022 and organised a group exhibition Schemes and Schema in April 2022 at Hartslane. He recently exhibited at South Kiosk and has been selected as one of Bloomberg's New Contemporaries 2022.