More Music's West End Winter Lantern Festival 2021
Saturday 4th December 2021 02:00 PM to 07:00 PM
Morecambe, LA3 1QT

Back
More Music invite you to join the procession alongside bands of people with their lanterns through the streets of Morecambe.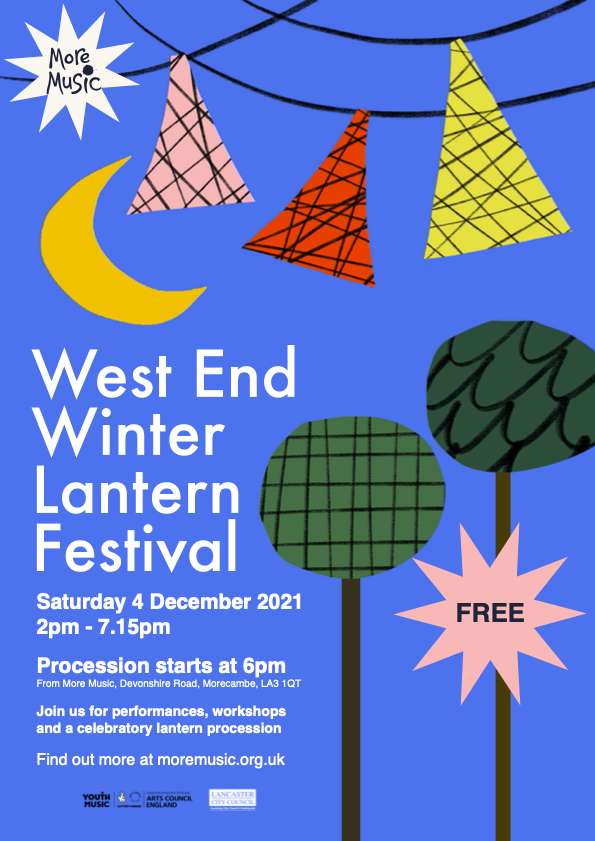 Everyone's invited to join in the procession along with bands the people with their lanterns in the procession, it's such a lovely way to get into the festive spirit so we always see lots of people at More Music for a fun evening.
From 2pm there'll be performances, workshops, Creative West End's Winter Market & all sorts of activities for all the family to enjoy, culminating in a celebratory lantern procession at 6pm.

The lantern parade and musical event promotes a positive image of the area, developing community pride, cohesion and confidence. 400 people participate in the procession (and workshops) and 1000 in the finale.

Saturday 4th December from 2pm to 7.15pm
Procession starts at 6pm from More Music, Devonshire Road, Morecambe, LA3 1QT