CIC BTB21 - Politics, Power & Production: The Global Impact of Denim
Tuesday 26th October 2021 06:00 PM to 08:00 PM
Blackburn Cathedral, Cathedral Close, BB1 5AA

Back
A Conversations in Creativity panel discussion for British Textile Biennial, featuring Craig Oldham, Harris Elliott, Sophie Woodward, Tiwirayi Ndoro & host Amber Butchart.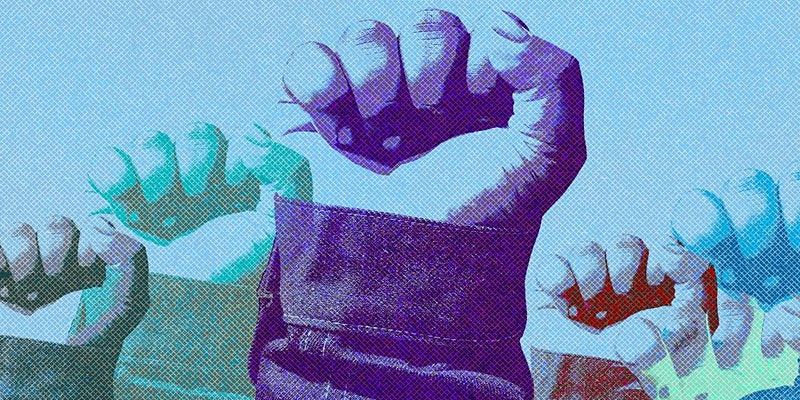 "Movements throughout history have been led by ordinary people and ordinary people have always worn denim.
Creative Lancashire is collaborating with Amber Butchart to curate and present a series of Conversations in Creativity talks to further explore the themes responded to by artists & makers contributing to the British Textile Biennial programme.
From the anti-war and civil rights movements of the 60s and 70s, to climate action and social justice today, denim clad people of all ages demanding change is a constant. Our expert panel considers denim's role in grass-roots movements, counterculture, protest, and how citizens worldwide are impacted by the global story of denim production.

The Global Impact of Denim session features Craig Oldham, Harris Elliott, Sophie Woodward, Tiwirayi Ndoro & host Amber Butchart.

Conversations in Creativity is Creative Lancashire's series of talks and insightful interviews, where creatives from across the disciplines explore how inspiration, often from around the world, informs process.
Booking Info:
Free to attend, but registration essential.
About the Participants:
Amber Butchart is a fashion historian, writer and broadcaster who specialises in the cultural and political history of textiles and dress. She is a former Research Fellow at the University of the Arts London, and is a regular public lecturer across the UK's leading arts institutions. She researches and presents documentaries for television and radio, including the six-part series A Stitch in Time for BBC Four that fused biography, art and the history of fashion to explore the lives of historical figures through the clothes they wore. Amber is an external adviser for the National Crime Agency as a Forensic Garment Analyst, working on cases that require investigation of clothing and textiles. She has published five books on the history and culture of clothes, including The Fashion of Film, Nautical Chic, and a history of British fashion illustration for the British Library.

Craig Oldham has been named as one of the most influential designers working in the UK, and has written books on a range of topics, including education, culture, and politics. Alongside his practice, Office Of Craig, he is creative director of Rough Trade Books and teaches at various institutions.
Harris Elliott is a Multi Disciplinary Artist, Cultural Curator and Academic with an extensive portfolio working in fashion, music and art. 'Culture without compromise' is Elliott's studio mantra, a statement of intent refined through 20 years of inspired global working with heavy emphasis in Japan and Jamaica. Harris is a Senior lecturer in Fashion at the Royal College of Art and Central Saint Martins. In 2021 Harris launched the art based, collaborative conversation platform 'Le Tings' an alter ego of his main studio expressions, building upon nuanced African diaspora references through visuals and sound. As Le Tings they repurpose language and ephemera taking lead from oral tradition and the street market as their contextual muse.

Sophie Woodward is a professor of Sociology at the University of Manchester and carries out research into fashion, clothing (particularly denim), and wardrobes as well as dormant things (things people no longer use but are keeping) and feminist theory. She is the author of 5 books including Why Women Wear What they Wear and Blue Jeans: the Art of the Ordinary.

research.manchester.ac.uk/portal/sophie.woodward.html
Tiwirayi Ndoro is a Fashion Promotion with styling graduate, Specialising In Fashion Photography and Styling from The University of Central Lancashire. She is also the winner of the 2020 Fashion and Textiles award by Creative Lancashire. Tiwirayi's work is very much an expression of her experience, being a Black British woman while still embracing her Zimbabwean heritage. She is passionate about the development and progression of young people and aims to encourage and inspire young people through her work and community youth work as a director of KYSO PROJECT CIC in Manchester.

Banner Image: Erin Jones © studiojonesy.com