Caribbean Couture the tapestry of identity in the diaspora
Wednesday 31st August 2022 to Wednesday 30th November 2022

Back
The Hibiscus Caribbean Elderly Association presents a series of monthly online talks covering historical facets relating to Caribbean fabric, dress styles and headwear.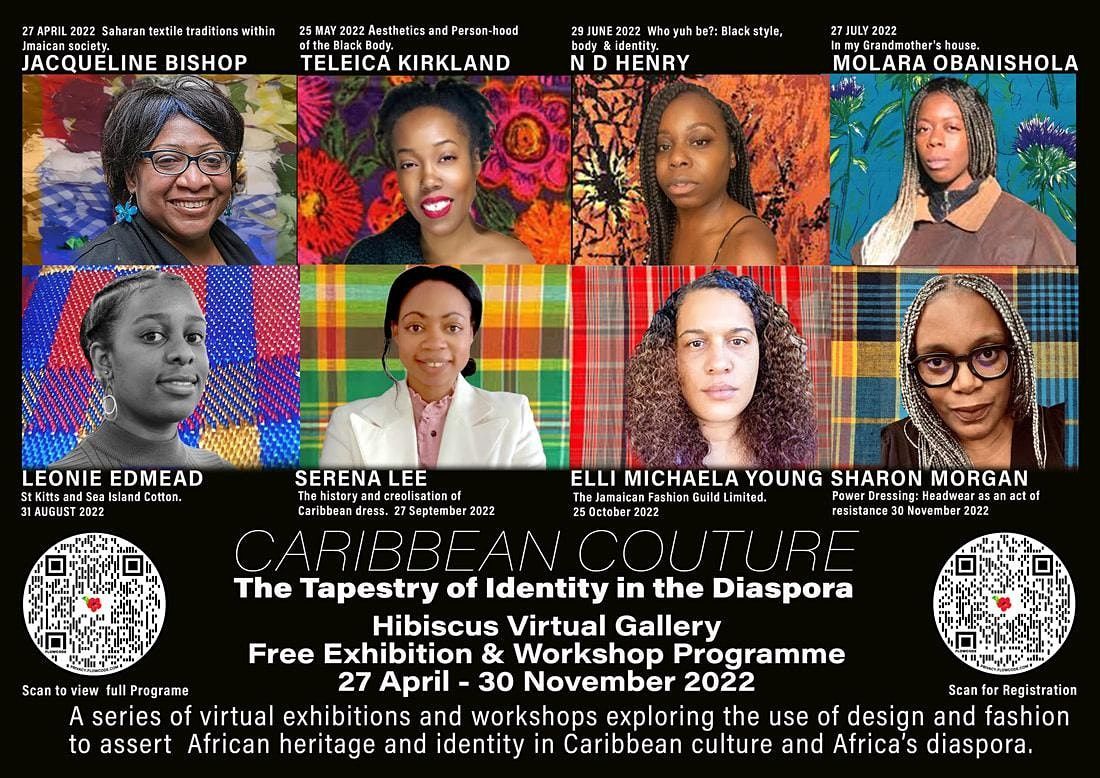 Each session starts at 7pm with a 30 minute talk, followed by 30 minutes for Q&A.

St Kitts and Sea Island Cotton" - Leonie Edmead
Free - 31 Aug 2022

St Kitts and Sea Island Cotton" Leonie Edmead This presentation explores the interaction between textiles and dress as an expression of identity during the period British colonialism and considers the impact and importance of textiles as a communicative tool of identity. It examines the manner of textiles production in the colonies, focusing particularly on the production of cotton: West Indian Sea Island Cotton, this yarn the qualities of which are renowned, is also a critical factor often overlooked in the post-colonial discourse on identity and textiles. In this presentation I will underscore the importance of textiles to identity by unravelling its threads.

The Creolisation of Caribbean dress in Art History
Free - 28 Sep 2022

Due to the dominance of western fashion history, the history of Caribbean dress is hardly ever researched. Considering recent interest in black British culture since the BLM movement in 2020, the Windrush scandal, and recent research into cultural institutions, links to slavery, has furthered interest in Caribbean history. This presentation will look at the history of art, style, and Caribbean British culture. The presentation will illuminate the complexities of accommodation and resistance through style and dress, showing that these complex responses are not opposites but woven into each other. Thus, revealing the dynamics of race, class, and gender in art history.
In my Grandmother's house"- Omolara Obanishola
Free - 26 Oct 2022

'In my grandmother's house' Omolara Obanishola looks at a number of 'fashionable' objects from her grandmother's house and how their stories shine a light on the experience of African and Caribbean migration to Britain and the complex but hopeful lived experiences of its inhabitants.

Power Dressing: Headwear as an Act of Resistance
Free - 30 Nov 2022

Headwear Sharon Morgan: Power Dressing: Headwear as an as an Act of Resistance, draws on the traditions of the anti-imperialist school of writing to analyse and develop a narrative that better explains the objective experiences and actions of a populations living under neo-colonial practices. The presentation is based on observation gained, through living amongst the Windrush generation and their offspring, settled in the United Kingdom and will consist of a series of images accompanied by a narrative.
For more information and to book your place for each individual event, please visit the main Eventbrite registration page.