Creative Spotlight - Cait McEniff
12 July 2021
For the Delivering Design at A Distance series, we commissioned four up-and-coming creatives to produce new visual work inspired by the themes and findings of each article. Alex O'Toole chats with artist and illustrator Cait McEniff, who created the images for 'Losses & Gains'.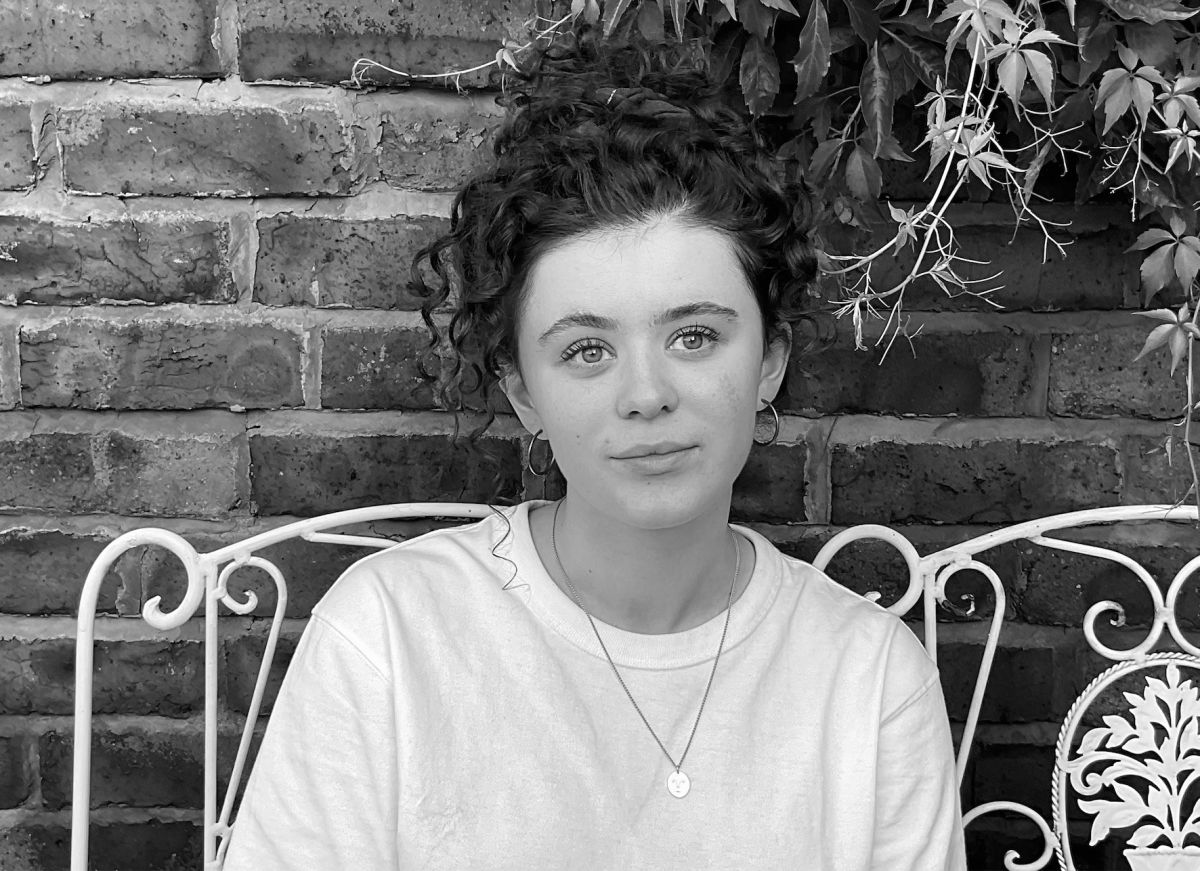 Artist and Illustrator Cait McEniff created the illlustrations for the third Delivering Design at a Distance article about Losses & Gains in a series created and curated by Alex O'Toole and Jonathan Ball.
Alex chatted with Cait, to find out more about her creative practice and what inspires her work.
Ten Minutes at a Distance with Cait McEniff
How long have you been an illustrator?
I graduated from the illustration degree at Leeds Arts University in 2020, and I've been part-time freelancing since then.
What is your first memory of creativity and being creative?
When I was six, I went through a phase of really wanting a hamster but I wasn't allowed so I made this paper and sellotape monstrosity and carried it around in its shoebox feeding it shredded paper!

I have a big box of some drawings and crazily stapled books I made when I was small. There's a few that I was obviously really proud of and so tried to preserve them with strips and strips of sellotape (low budget laminating!), but now they're all yellowed and gross!
Tell us about your creative journey. How did you get to where you are now?

I've been very lucky to have parents who've supported my choice to do art and they've always nurtured my creativity since I was small.

Me and my brother were always drawing pictures and making models and inventing board games. My mum's a primary school teacher so we always had some glue sticks laying about!

After school I did my art foundation at Manchester School of Art and then went on to do a degree in illustration at Leeds Arts University, which I finished last year.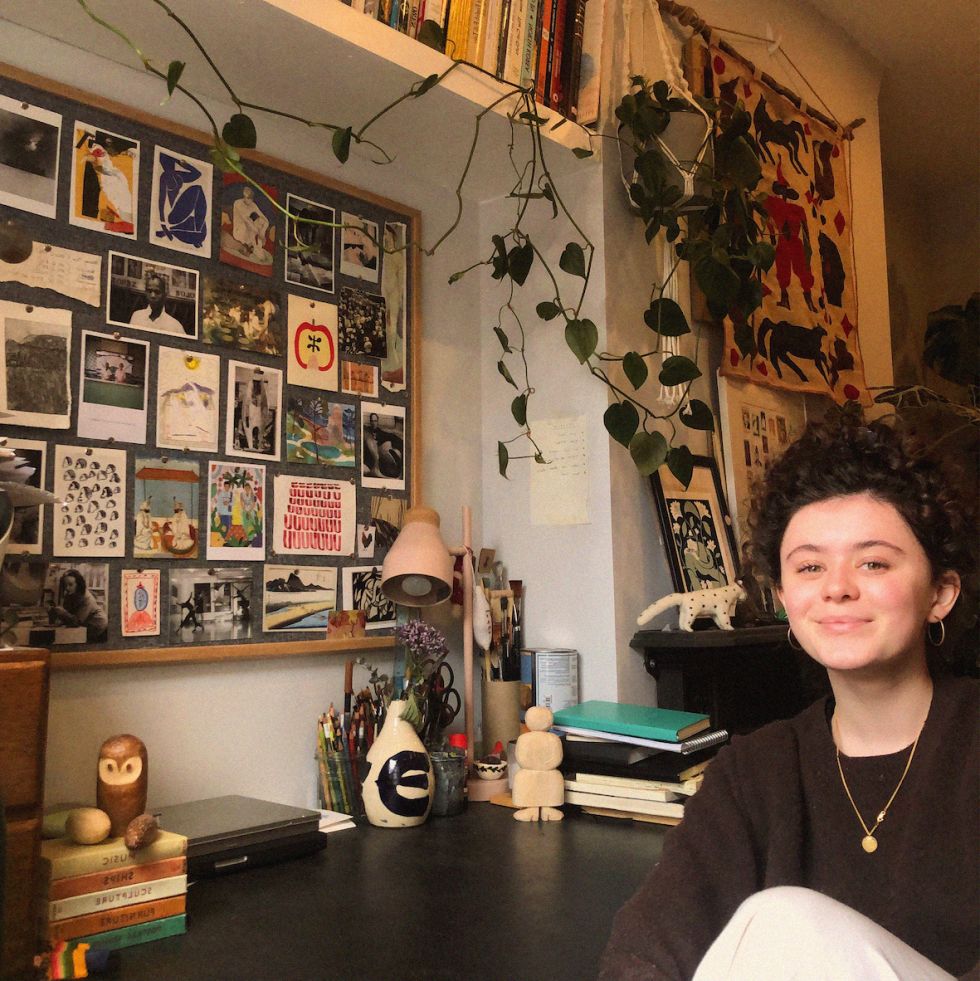 Since then, I've taken some time to decompress after what was a difficult end to university, what with Covid, and I'm slowly building up a portfolio to continue pursuing illustration.
Tell us about the concept and thinking behind the work you have created for the Losses & Gains article.
My concept for these illustrations was to use cogs as the visual metaphor for the issues discussed in the article.

For the 'Gains' section, I wanted to highlight how designing at a distance can enhance efficiency, so the illustration shows various houses, which are obviously separated by distance.

However, their creative output (the cogs) all join together to work efficiently and effectively as a unit.

For the 'Losses' section I used a similar idea, but flipped on its head to show the isolation that working from home can have.

Each house is separate, and their output is smaller and doesn't join together to form a bigger, more cohesive picture. It's also set at night-time to show how the lines between work and home are blurred - time is merged and working days can feel longer and lonelier.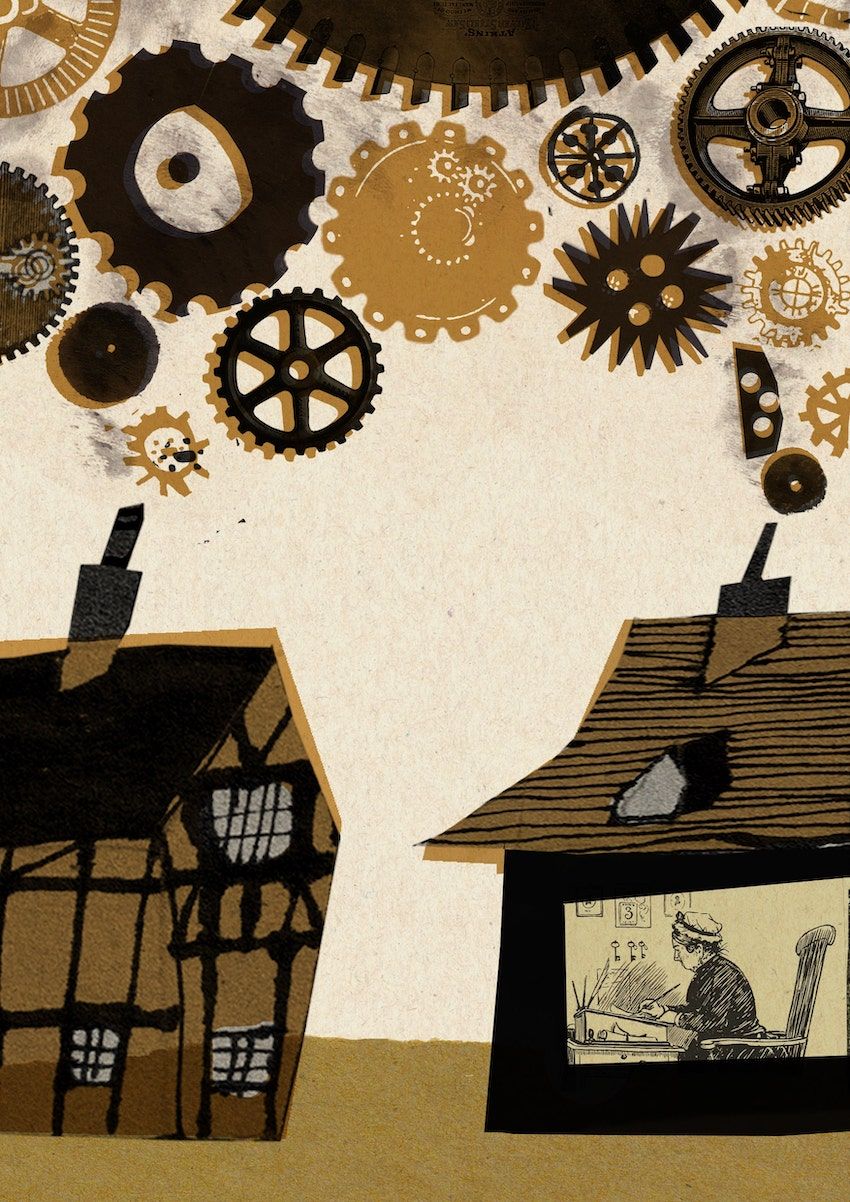 What has been the biggest influence on your work to date?
Storytelling and folklore. For my final university project, I chose to focus on folktales and folk art and different vehicles of storytelling.
This way of thinking and the influences I came across during this project seep into everything I make now. I'm interested in honest, authentic picture making that enriches stories and ideas.
At the moment I'm also very interested in Mid Century design, the limited colour palettes and screen-printed textures, for example Czechoslovakian matchbox labels and 1960s children's books.

Recently, too, I've been using the wonderful resource of British Library Flickr, which is an archive of over one million public domain images free from copyright.

So I've been playing around with incorporating historical illustration and photographs into my work, as you can see with some of the cogs in my illustrations for Delivering Design at a Distance.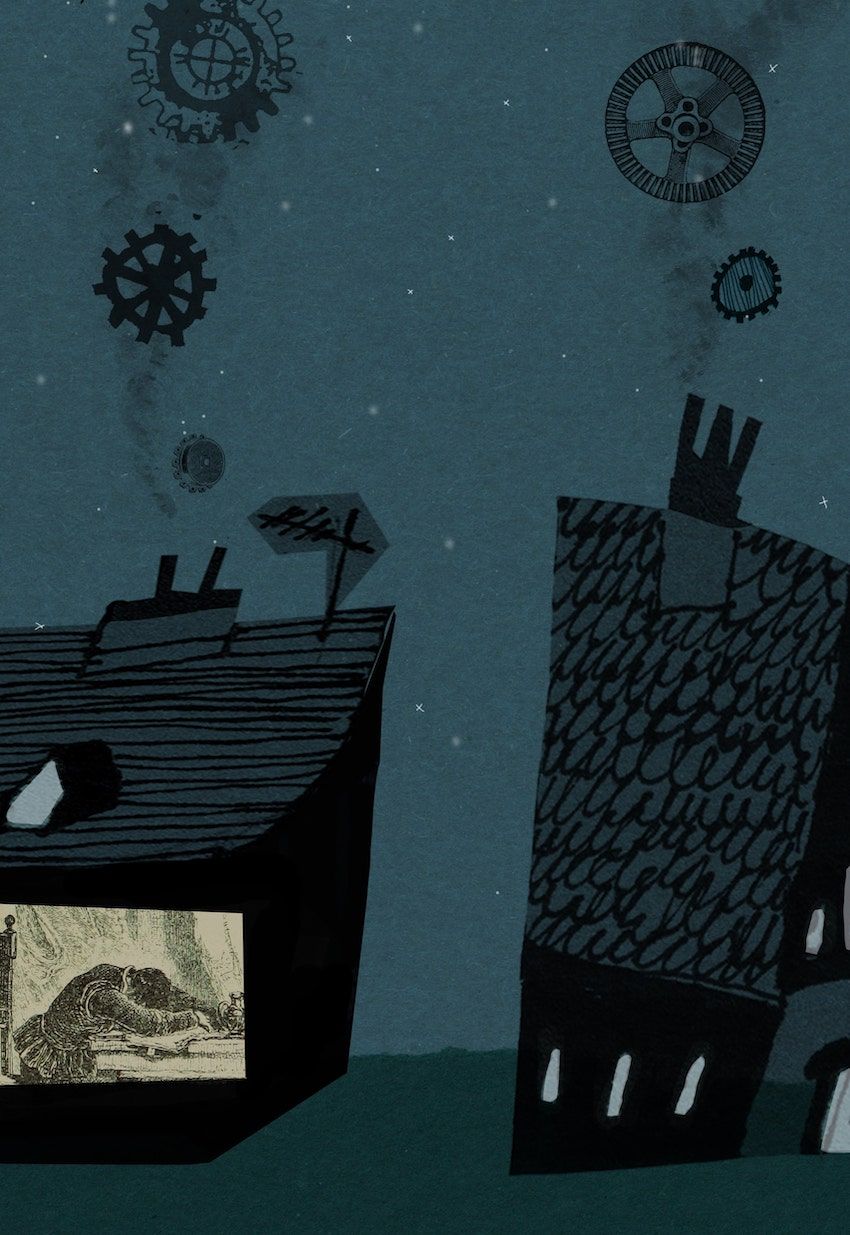 Which artists and illustrators do you admire or inspire you the most?
Ooooh, lots and lots.

Hockney, always. 20th century illustrators and artists such as Saul Steinberg, Ben Shahn, Miroslav Sasek, Barbara Hepworth, Matisse, Jean Michel Basquiat.

As well as contemporary illustrators such as Laura Carlin, Charlotte Ager, Jesus Cisneros, Molly Martin, Sophy Hollington, Pia Bramley, Carson Ellis... I could go on and on and on!

How has your style evolved over time?
I'm still figuring out what my 'style' and visual language is, and I think it'll be continually evolving and changing for a while to come yet, as I pick up new influences and find new ways of working and I grow in confidence.

I think confidence is the main thing, to believe in what you're making and what you're trying to say with your work. I think recently, though, trying to take influences from places wider than just contemporary illustration has really elevated my practice.

Looking at stories, folklore, costume, traditions, myths, textiles, pottery, packaging, stamps, photographs, etc., and in turn using those wide interests to inform and enhance my work and my understanding.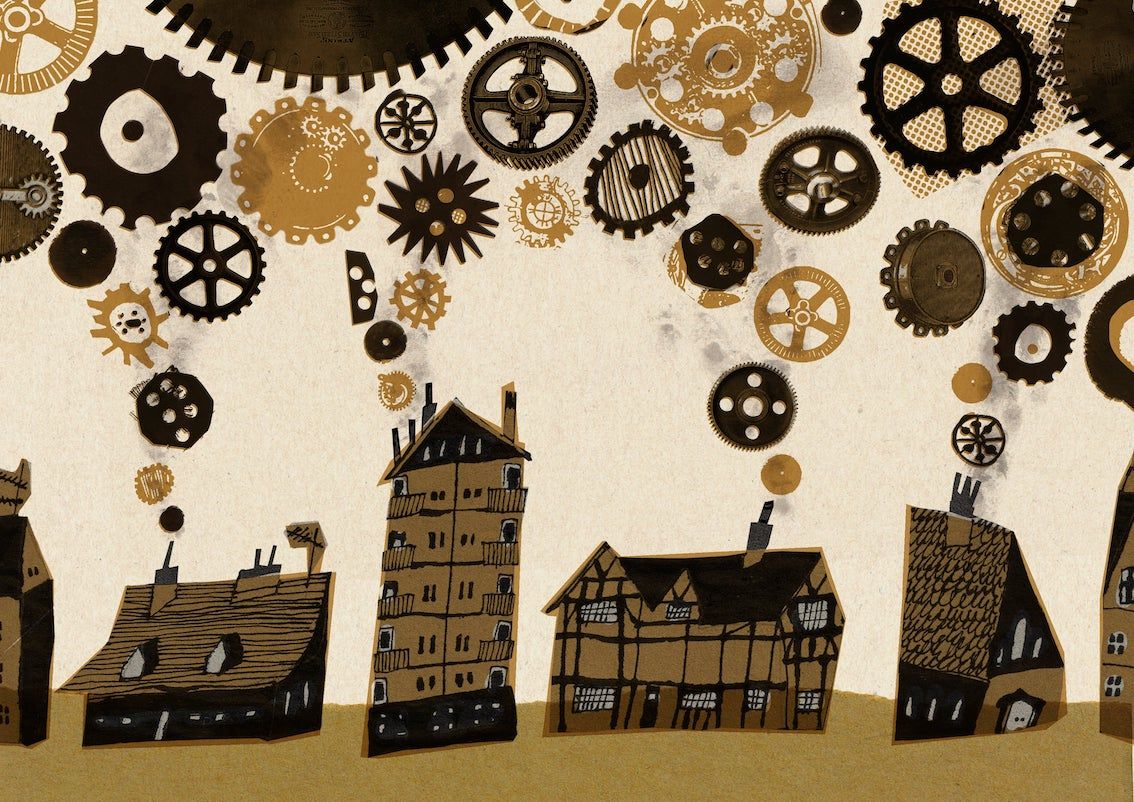 What keeps you motivated to keep creating?
I think constantly reminding yourself just how lucky you are to be in the position of doing what you love as part of your income. It's a real privilege to be able to alot so much of my time to making pictures, and an even bigger privilege that people commission me to make those pictures for their projects and causes.

So, I think when I'm struggling with my confidence, or whatever else it might be, it's good to look back on what I've done so far and what I'd like to do in the future and how lucky I am. Trying to capture how we made pictures and how we thought about making pictures as kids too, making for the joy and fun of it is really important to staying creative and excited.
What are your plans and goals for your future career as an artist and illustrator?
I want to keep making and keep learning and keep enjoying it. I hope to grow in confidence, take things steady and at my own pace and to stay curious.

For some shorter term goals though: for my final university project I mentioned earlier, I wrote four interconnecting poems/stories inspired by folklore about the weather, and in the next few years I would really love to spend some time properly committing to making it into a proper picture book.

At the moment I'm really enjoying craft and translating my ideas into 3D methods, such as making fabric wall hangings and wood carvings. It's a really nice break for my brain to make something with my hands away from a screen and to craft something just for me, so I hope to be able to have the time and brain space to continue doing this in the future.