Covid 19 Business Strategies – online course launched
19 May 2020
A Coronavirus Business Strategies online course has been launched by David Parrish (T-shirts & Suits), as a creative business response to the COVID-19 crisis.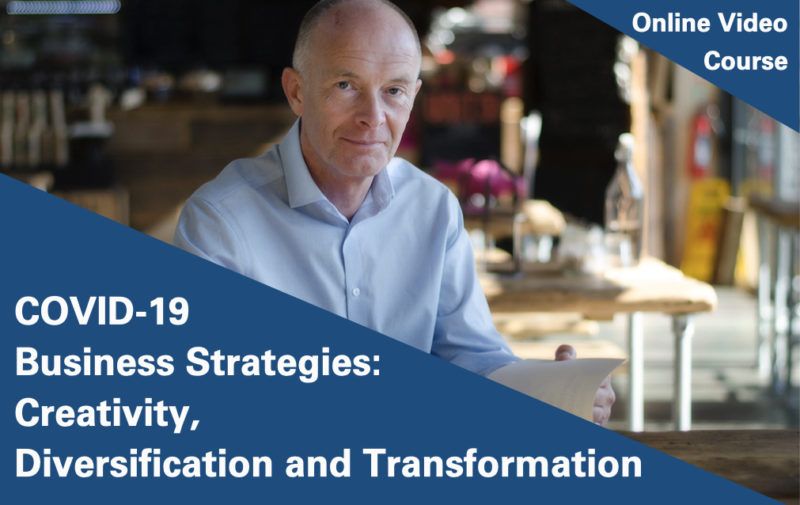 COVID-19 Business Strategies: Creativity, Diversification and Transformation
David says: "This course will empower you to generate new income in the short term, devise a new Business Formula, and potentially to transform your whole business model."
It has been designed for owners and senior managers of businesses and organisations who want to adopt new strategies to cope with the COVID-19 crisis and devise a better business model for the future.
The course is especially relevant to creative, digital and cultural enterprises. However the course is useful for any business or organisation.
Many of the videos, examples and course materials are derived from David's international work as a specialist business adviser, trainer, speaker and author in the creative, cultural and digital industries. Read more about David's professional expertise and international experience here.
The Coronavirus Business Strategies course has 20 sections including 14 videos, downloadable documents and additional information. The course structure is carefully designed but you can access the videos, information and downloads at any time, in any order.
The course content includes:
1. How to use "i-Creativity" in the business office.
2. Three Techniques to generate new ideas.
3. The Feasibility Filter. A system to select the best opportunities
4. Ten different Diversification Strategies.
5. 'Lean Diversification' – the methods of innovating and launching new products and services.
To help you obtain maximum benefit from the course, there are downloadable worksheets and articles, further information about the strategies and techniques, plus links to associated support materials.
View the 20 sections of this online course.
David's mission, passion and profession is to empower creative entrepreneurs to become even more successful. He works internationally as a business adviser, trainer, speaker and author.
Free business development resources are available on his website, including a free eBook version of his book 'T-Shirts and Suits: A Guide to the Business of Creativity'.
As part of his ongoing support for the creative, digital and cultural industries internationally, David will provide access to this course at various reduced rates to a limited number of creative enterprises and organisations worldwide. Discounts can be arranged for creative industries support agencies, creative hubs and membership organisations who want to provide reduced rate access for their members. Affiliate marketing arrangements are also possible.
Contact David to apply for individual discounted access to this online course or to discuss access for your members.