The Very First British Textile Biennial comes to Pennine Lancashire
12 September 2019
The inaugural British Textile Biennial is a festival celebrating the power of textiles through art, design, performance and crowd sourced exhibitions, from 3rd October to 3rd of November 2019.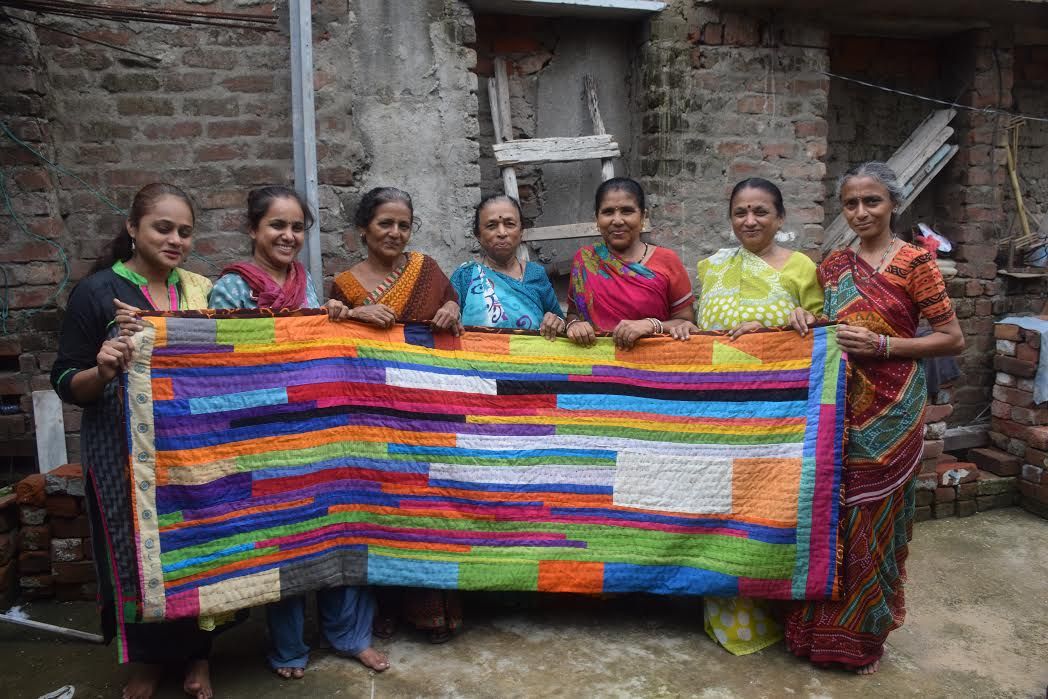 The British Textile Biennial offers a range of interactive workshops, masterclasses, talks and panel discussions over the month. Join Claire Wellesley Smith for a master class in madder dying at Elmfield Hall in Accrington, drop in for a politics of pockets workshop at the Bureau in Blackburn, listen to the Commoners Choir perform songs of collective action at the Banner Culture exhibition, recount your own histories relating to the heady days of rave in the pop up listening booth, screen print an activist slogan with the Girls, Girls, Girls, embroider a decoration with Mr X Stitch and hear Alice Kettle talk about her remarkable practice in a special Conversations in Creativity talk…. all this and much more taking place across Pennine Lancashire throughout October.

British Textile Biennial is supported by local design heroes and manufacturers with national and international reputations and counts amongst its patrons Turner Prize winner LubainaHimid CBE, award-winning designer Patrick Grant, and Tony Attard OBE, CEO of Panaz and Chair of Marketing Lancashire.
The politics of cloth will be explored by artists, designers and makers in exhibitions, performances and events in the first British Textile Biennial this autumn.

Commissioned by Super Slow Way, the inaugural Biennial programme highlights the nation's creation, innovation and expression in textiles against the backdrop of the impressive infrastructure of the cotton industry in Pennine Lancashire. With its epic mills, grandiose civic architecture along the country's longest waterway, the Leeds & Liverpool canal, this landscape tells the story of textiles. This Biennial festival celebrates that story while showcasing its contemporary expression with the community that has textiles in its DNA.


Highlights of the Biennial will include:

Banners have long been used as vehicles for personal and collective expression, from traditional 19th century processional banners to contemporary D.I.Y. messages of protest. Banner Culture is a mass staging of these iconic cloths in the epic spaces of Northlight, the former Brierfield Mill in Pendle brought together by a national call-out to heritage collections and campaigning groups across the UK in partnership with Mid Pennine Arts and Pendle Radicals.
Queen Street Mill in Burnley, made famous as a location for period films, provides the setting for Heirloom, a display of shirts embroidered by local men, telling personal stories of textiles and migration, alongside works by Daksha Patel, Anna Ray and Raisa Kabir evolved from their Art in Manufacturing residencies in factories across the area. The mill will also provide the backdrop for a new workby Dhaka artist, Reetu Sattar, who has been working with the local Bangladeshi community.
Jacqui McAssey uses photography and the traditional football fanzine to document the female fans of the English and Scottish Premier Leagues and the English Football League, throwing a spotlight on their place in football culture in her ongoing project, GIRLFANS. For the British Textile Biennial, Jacqui is spending time at Turf Moor to showcase how Burnley FC's 'girlfans' express themselves through their clothing in a specially commissioned zine alongside an exhibition of their portraits at Burnley Mechanics.
Monumental textiles in the form of large-scale narrative embroideries and weavings such as the Bayeux Tapestry, have been long been used to illustrate contemporary events to become enduring material chronicles. Showing in the magnificent barn at Gawthorpe Hall, Burnley, home of the famous textile collection, Alice Kettle's Thread Bearing Witness is a major series of large-scale embroideries that represents a moving reflection on cultural heritage, refugee displacement and movement. Importantly, the work is a product of Alice's collaborations and relationships with individual migrants and stands as testament to their enduring creativity and imagination while caught up in the global refugee crisis.
Artist Claire Wellesley Smith has been working for two years with local residents exploring Frederick Gatty's historic experimental dye house at Elmfield Hall, Accrington and the innovations in dye techniques he pioneered, such as the Khaki dyes used in manufacturing uniforms for the troops during WW1. In the bicentenary year of Gatty's birth, this new work reimagines the abandoned dye house as it might have been when he was alive. Local dyes and inks grown and produced by the community, archive materials related to the site and stories from the heritage combine in this immersive work.
Eggs Collective bring their trade mark humour and razor-sharp observation to a brand-new performance in Accrington's impressive Victorian Market hall. For four weeks, this summer the actors ran a clothes stall that traded in conversation, not cash. Collaborating with market traders and customers to weave stories together, they have created this at once funny and poignant performance that explores how cloth shapes the fabric of our lives, to be premiered on 26 October in this wonderful space.
In the crypt of Blackburn Cathedral, T-Shirt: Cult | Culture | Subversion, an exhibition created by the Museum of Fashion and Textile and The Civic, Barnsley, charts the history, culture and subversion of the most affordable and popular item of clothing on the planet. Since its earliest incarnation at the start of the 20th century, the t-shirt has served as a means to broadcast social, musical and political passions and this exhibition spans over 50 years featuring rare and ground-breaking examples.
Blackburn Museum presents a new film collaboration between the award-winning young Blackburn film maker, Aaron Dunleavey and designer Patrick Grant's social enterprise Community Clothing, revealing the lives of Blackburn's textile factory workforce in a compelling portrait of today's industry and its communities.
Also at the Museum, Katab, is an exhibition of contemporary quilts inspired by Bollywood films made by women in Ahmedabad using traditional techniques, these will be shown alongside quilts from the museum's own collection. Visitors will be able to try their hand at quilt making in drop-in workshops every Saturday in October.
The evolution of adidas footwear past and present will be presented in all its glory at the adidas SPEZIAL exhibition exhibition in Blackburn's magnificent Cotton Exchange. Curated by Gary Aspden (adidas brand consultant and designer of the adidas SPEZIAL range), the exhibition features shoes from his personal archive alongside those of other fellow adidas collectors. The showcase will feature over 1000 pairs of rareadidas trainers. Highlights of the exhibition will be numerous versions of the vintage adidas 'City Series' models with a full archive of the adidas SPEZIAL range.
Finally, British Textile Biennial artist-in-residence, Jamie Holman's new work gives us a far-reaching insight into the cultural products of Blackburn's working classes starting with workers' banners and the 19th century Blackburn artists, James Sharples and William Billington through to the creative outpouring in the warehouse raves of the 1980s when the grandchildren of cotton mill workers transformed former workplaces into spaces of joy and liberation. Through his investigations into acid house fashion, football fandom and folklore, Holman traces art's power to transform in the hands of the historically disempowered in a specially created space in Church Street, Blackburn.
These last two exhibitions are accompanied by an extensive engagement programme funded by The National Lottery Heritage Fund this programme seeks to unearth, celebrate and archive the neglected but crucial cultural heritage of two generations of largely young males through their choice of trainers when they stopped fighting and started dancing, organising mass parties in empty warehouses and mills. The programme will be developed and driven by a core group of men who were the originators of that heritage who will work within their own communities to capture other people's experience of that time through creative workshops and a recording/listening booth which will populate a digital archive.
For more information visit: https://britishtextilebiennial.co.uk/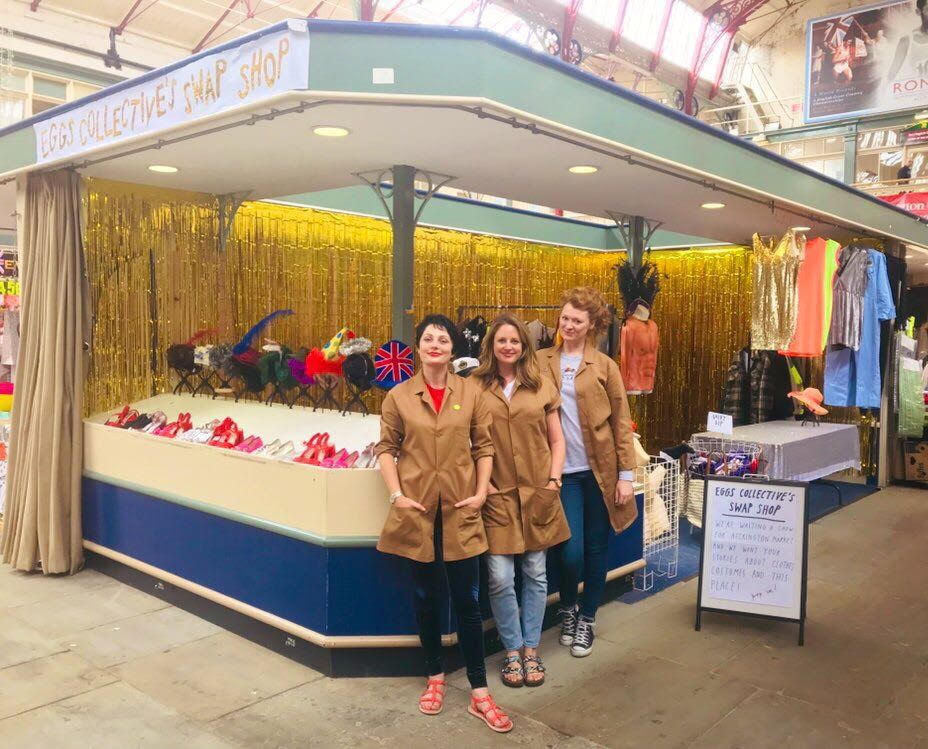 (Image of Eggs Collective courtesy British Textile Biennial)