TeenTech Lancashire Festival
27 April 2023 by Ed
Get involved in the new TeenTech Lancashire Festival at UCLAN– a celebration of all things digital, scientific and technical for young people across Lancashire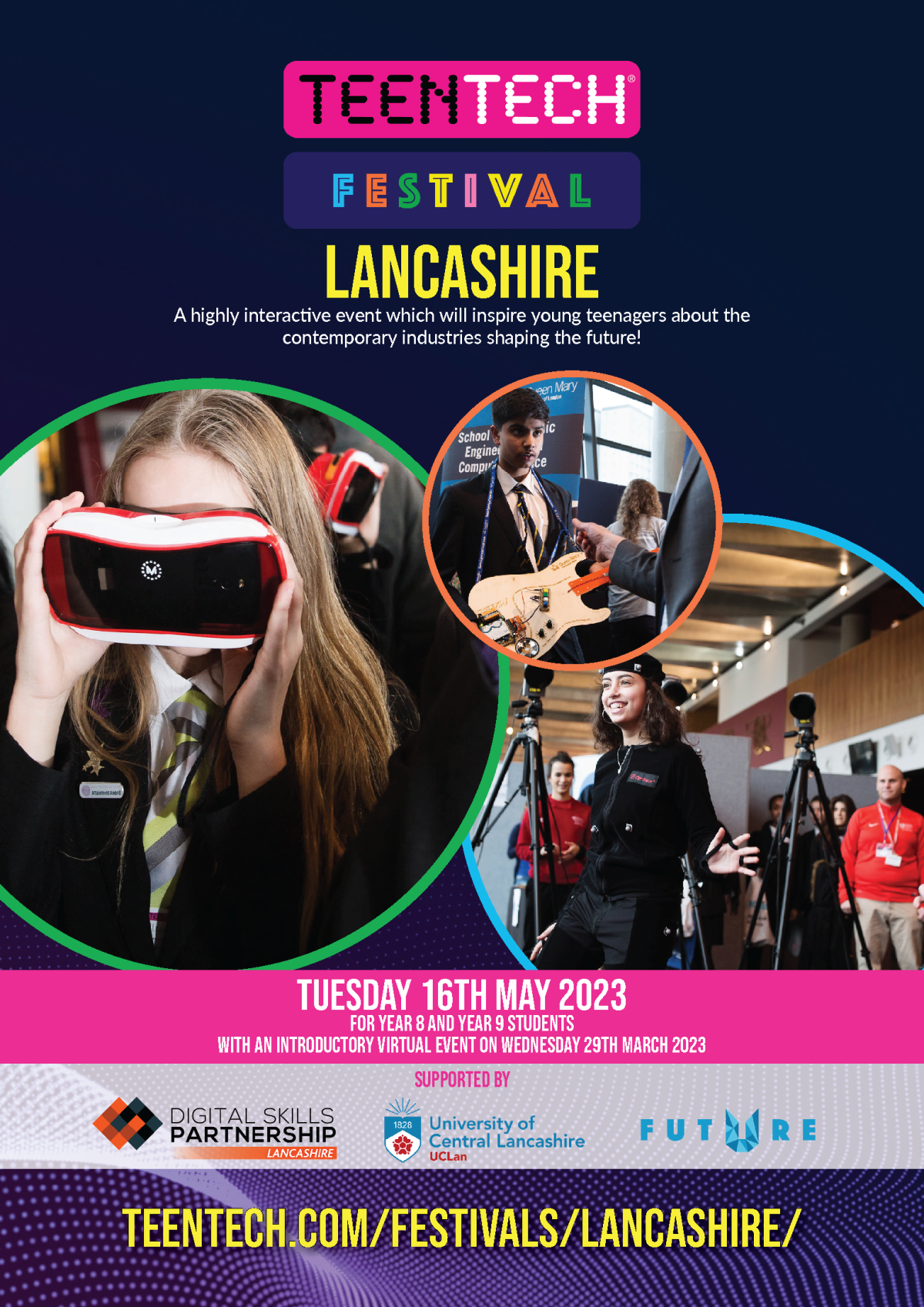 TeenTech, the Lancashire Digital Skills Partnership (LDSP) and the University of Central Lancashire are delighted to launch the first in-person (after two years of exciting live online events) TeenTech Lancashire Festival on 16th May and need your help!

The event is a great opportunity to engage and inspire the next generation in all areas of contemporary industry, showcasing the importance of digital, scientific and engineering skills across the region.
The TeenTech Festival gives students and teachers from across the region the opportunity to try their hand at immersive challenges and experiments, to handle cutting edge technology and, most importantly, to spend time with engineers, technologists and scientists from a wide range of companies influencing their 21st-century lives.
The event offers:
An exciting range of sessions which resonate with young people from animation to the future of music, space exploration to the future of transport, food sustainability to ethical fashion, smart homes to smart cities.
Opportunities to connect with people working at all levels of engineering and technology.
Opportunities to develop skills which students, as well as industry, recognize as key to their future.
Ways to enrich lessons in science, computing, maths, animation, web design, design and technology.
A safe, interactive platform.
Cross-curricular learning.
Flexibility – sessions work well whether students are in school or working from home.
A valuable network of industry contacts.
AN OPPORTUNITY TO INNOVATE
Pupils will work in teams, in roles aligned with a start-up company, to become the inventors of tomorrow in an hour-long workshop and challenge! Students will be designers, developers and marketing experts, using sensors, data and cutting edge technology, to tackle real-world problems! Following the TeenTech Festival, all students will have the opportunity to develop their ideas further and enter the TeenTech Awards.
INDUSTRY INSIGHTS
Pupils will meet, and talk to real-world innovators, large technology companies, and industry leaders. Pupils get an understanding of the industry, and can participate in simulated tasks that illustrate the real work that goes into science and technology. They will also interact with regional companies, showcasing the wide range of exciting science, technology and engineering companies that the students may not know exist.
CHALLENGES

Pupils will compete in simulated tasks that demonstrate real world work by major science and technology companies. This is a chance to experience innovations in science, technology and engineering, and a chance to show students that they have the skills required to be successful in these areas
TeenTech CEO and co-founder, Maggie Philbin OBE, said:
"I'm delighted to work with the LDSP partners and UCLan to develop and deliver an exciting festival designed to bring careers to life for young people across Lancashire. It's a great opportunity to share the impact of your work on the technologies of the future and the next generation."
Kerry Harrison, Lead for the Lancashire Digital Skills Partnership said,
"After two years of successful online TeenTech events reaching over 1600 young people in Lancashire, the LDSP is delighted that working with partners including UCLan, FutureU, Oracle, DCMS, Create Education and the Lancashire Careers Hub, we can now invite our schools to an in-person event at UCLan. We are thrilled that young people will get the opportunity to experience what the businesses and universities of Lancashire and wider national organisations are doing and the exciting careers they may want to choose in this County. All showcased in the fabulous facilities of UCLan."
Jo Brown, who runs UCLan's Young Scientist Centre said,
"UClan are delighted to be hosting the first in-person Teen Tech Lancashire festival. We are looking forward to young people from Lancashire being able to experience the buzz of all the opportunities that could be in their future".
TeenTech Festivals have been enthusiastically received by students, teachers, and participating companies since the inaugural event in 2008. They are evidence based, sharply focussed, and meticulously timetabled events, designed to ensure maximum learning and forge powerful connections between schools and universities and local and national businesses.
It's an exciting, immersive, and powerful programme which not only helps young people understand the opportunities in contemporary industry but also helps them develop the skills and personal qualities which are most needed in tomorrow's world. It's a day that changes minds and celebrates all things creative in digital, cyber security, science, technology, construction and engineering.
30 groups (300 students) from 30 secondary schools will attend the festival day. Schools bring students who will most benefit from the experience. Students will then be invited to develop projects for the TeenTech Awards and provided with mentors to support this work.
Up to 30 businesses and local university departments will provide high quality inspiring activities and industry ambassadors.
Organisations can support by:
Running an interactive stand in the Insight Zone where 5 students will be timetabled to your stand for 15 minutes at a time, along with either a teacher or an ambassador.
Running a Challenge Zone activity where 10 students will be timetabled to your stand for 30 minutes at a time, along with their teacher and an ambassador.
Providing business ambassadors who would join a group of students for the day.
We do not charge companies for participating in our events but a wide range of sponsorship packages are available.
Please contact Sally Dixon sally.dixon@teentech.com for more information or to discuss sponsorship opportunities.