Open Call - CreativeXR
07 May 2020 by Ed
Digital Catapult and Arts Council England invite content creators to apply with ground-breaking project ideas to this third unique round of CreativeXR. Focused on the creative industries, particularly the arts and culture sector, CreativeXR has been designed to allow the best creative teams to develop concepts and prototypes of immersive content using virtual, augmented and mixed reality technologies. Deadline: 17 May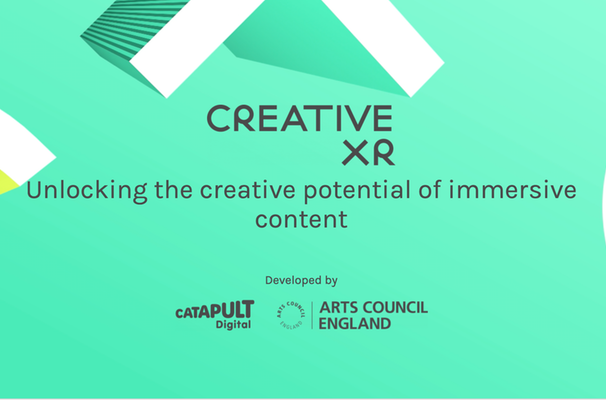 CreativeXR unlocks the opportunity for UK creative teams to experiment, iterate and bring immersive projects ideas to reality
Digital Catapult and Arts Council England invite content creators to apply with ground-breaking project ideas to this third unique round of CreativeXR

Focused on the creative industries, particularly the arts and culture sector, CreativeXR has been designed to allow the best creative teams to develop concepts and prototypes of immersive content using virtual, augmented and mixed reality technologies.
The acceleration programme offers access to early stage finance, facilities, industry leaders and commissioning bodies, and the opportunity to pitch for further development funding.
Applications are now open – please read the application brief HERE
The UK has a unique creative industry with strengths in art, culture, entertainment and technology, sparking trends and influencing practice around the world. CreativeXR unlocks the opportunity for this industry to experiment with creating immersive content that will inspire future audiences.
Digital Catapult and Arts Council England launched CreativeXR in September 2017, driven by the common mission of enabling new formats of content innovation and future-proofing the UK creative industries market.
The programme has been designed to allow creative teams to quickly experiment, iterate and bring immersive project ideas to reality. Teams are given tools such as prototype funding, workshops, peer-to-peer learning and access to facilities. Each year as a final phase of the programme, project teams also compete for further production funding with the aim of becoming market-ready and pushing the boundaries of what immersive technologies can offer.
What's new in 2020: strands:
In 2020 CreativeXR will focus on helping teams creatively innovate with the format, develop project impact and build new business models through bespoke mentorship and support from leading experts in the industry. Teams will also showcase and pitch their projects to industry stakeholders at the third annual CreativeXR Showcase and Market in November 2020.
To increase confidence in undertaking boundary-pushing R&D, this year CreativeXR will engage with technical experts to help develop experimental prototype builds and support the teams throughout their three-month build journey.
CreativeXR and its partners are looking to support projects from the following themed strands:
5G-ready immersive content projects – This strand will select up to five prototypes that demonstrate the use of 5G or that are 5G ready. Digital Catapult will provide access to testbed facilities as well as technical mentorship to help build and validate the 5G capability.
Immersive content with an element of artificial intelligence (AI) – Up to two projects who apply to this strand will receive bespoke mentoring from Digital Catapult AI technologists to help develop the usage of AI in their projects.
Unreal Engine – Up to five prototypes that are built using Unreal Engine would be supported by Epic Games. Epic Games' Unreal Engine is the world's most open and advanced real-time 3D tool. Epic Games will be also providing technical support to all projects in the cohort that are utilising Unreal Engine.
StoryFutures Academy – Selected narrative based XR experiences will benefit from the expertise of StoryFutures Academy, who can guide creative teams and help them shape the narrative element of their piece, with a particular focus on writing and storytelling. The two themes that fit within this strand are:
Narrative led experiences – projects that display a potential for narrative strength and quality
Repeatable experiences – projects that have the potential to be a 'returnable' experience or format, for example, experiences that have the potential to repeat or expand, rather than being a one-off experience
Considerations on production methodologies and distribution formats:
The Covid-19 pandemic represents an unprecedented time in human history, which has caused the world to respond in unique ways. Arts, culture, entertainment and the collective and creative inspiration it brings is now needed more than ever.
At CreativeXR, we encourage applicants to reflect on how the immersive landscape will pivot and grow. We ask that creators use all their ingenuity to think about what production methodologies they will safely be able to use as they produce their content, and how that in turn will affect the final output.
Furthermore, while the ethos of the brief still remains the same, and we are hopeful that location based entertainment format will thrive in the future, we would like to also encourage applications that consider the current situation in which we are living.
Examples of distribution formats that are currently relevant could be:
Experiences delivered in home (for example, content is distributed online, to users' own devices, and is expected to be consumed in a home setting. This could be either through already existing platforms or new ones)
Experiences distributed on Social XR channels
Multi-platform experiences (for example location based experiences that can be adapted for in home use as well)
Experiences delivered through the web
This list is by no means exhaustive – we encourage you to use your creativity in thinking about how your project will reach your audience.
Applications deadline: Sunday 17 May 23:59:
We have decided to keep the open call live until Sunday 17 May. We will continue to monitor the situation and adapt the programme accordingly. For now, we would like to give applicants plenty of time and opportunity to apply to be part of the programme.
How to apply:
Please carefully download the Application brief below, and read our comprehensive lists of Frequently Asked Questions and T&Cs before applying
Complete the registration of interest form on this website
An email will be sent to the address indicated in the registration of interest form with the link to the full application form
If you would like to apply to a specific strand please ensure you tick the appropriate box in the full application form