New Wallace & Gromit Statue for Preston as part of the Towns Fund Programme
07 June 2021 by Michelle
A bronze bench featuring Nick Park's most famous creations - Wallace & Gromit - will be installed near Preston Markets later this year. Nick Park is an award-winning animator, who hails from Preston. The bench is the second in series of six 'Pop-Up' projects planned for the city's Harris Quarter.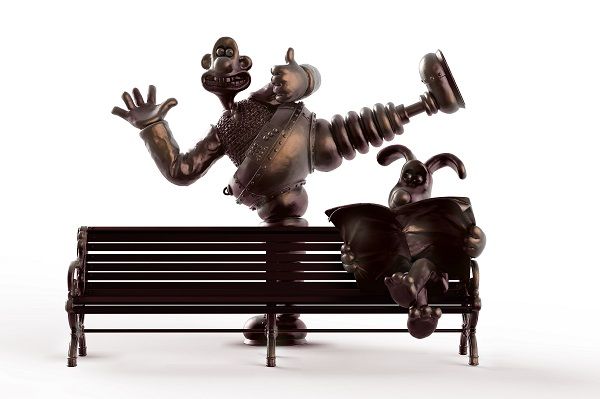 The bench, which visitors will be able sit on and have their photo taken on, is being funded from a pot of £1million in initial funding Preston received from the government's national Towns Fund initiative for Pop-Up projects. This initiative aim to encourage visitors back into the city after the pandemic, driving footfall and supporting businesses. The city received a total of £20.9m from the Towns Fund in March to support its wider Harris Quarter Investment Programme.
It is the second in series of six 'Pop-Up' projects to be announced for the city's Harris Quarter and follows the unveiling of plans for The MET – a new mobile event space – last week.
The wider Towns Fund projects revealed in March will breathe new life into some of the Harris Quarter's heritage assets, key buildings and open spaces to create a diverse culture, leisure and employment offering. The Harris Quarter Investment Programme is part of the Preston's 15-year City Investment Plan.

The Harris Quarter
The Harris Quarter includes the buildings, public spaces and streets surrounding The Harris Museum, Preston Markets, The Guild Hall and the bus station. Projects that will benefit from the funding include:
'Harris Your Place': The refurbishment of the Grade I listed Harris Museum, Art Gallery & Library, enhancing and protecting the building for generations to come.
Animate – Cinema and Leisure Scheme: The delivery of a new cinema and bowling attraction with food and drink venues, a car park and public square next to Preston Markets.
Renewal of Harris Quarter Assets: Investment to support the redevelopment of publicly-owned buildings in the Harris Quarter to support new cultural and community uses.
Illuminate and Integrate: A project to deliver improved pedestrian and cycleway infrastructure, street lighting and other public realm improvements within the Harris Quarter
Animation of Public Spaces: A project to fund the co-ordination of events in new and existing public spaces in the Harris Quarter.
Preston Youth Zone: The development of Preston Youth Zone as a state-of-the-art facility for young people in Preston aged eight to 19.
The Harris Quarter includes the buildings, public spaces and streets surrounding The Harris Museum, Preston Markets, The Guild Hall and Preston bus station.

About Nick Park
Nick Park was born in Preston, he grew up in Penwortham before later moving to Walmer Bridge. He began his studies at Preston College, where the library is named after him, before going on to study Communication Art at Sheffield Polytechnic and then focus on animation at the National Film and Television School.
Nick is best known for creating the British animated characters Wallace & Gromit. He is a four-time Academy Award® winner, three in the category of Best Animated Short Film – Creature Comforts, The Wrong Trousers and A Close Shave and one in the category for Best Animated Feature Film for Wallace and Gromit: The Curse of the Were-Rabbit. All four films were created and produced at Aardman, in Bristol, where Park is a director.
Nick joined Aardman in 1985 to complete his college film A Grand Day Out and served as a director and animator on numerous projects including pop promos, title sequences and inserts for children's television. He was one of the co-directors on the studio's first feature film with Peter Lord. This was the highly acclaimed box office hit Chicken Run in 2000. His most recent feature film was Early Man in 2018.
His well-loved characters have been seen globally across many types of apparel, advertising campaigns, computer games or giant sculpts in charity trails. The common thread is that they always raise a smile.
Altogether Nick has won four Academy Awards® and six BAFTAs® among many other film and television awards.
Press release provided by Marketing Lancashire.