New CC Skills Survey to Help the Sector
23 September 2022
Creative & Cultural Skills needs your help to re-think how they support the creative and cultural sectors post-pandemic. Your insights will help them understand what's dominating the minds of cultural organisations in this new world of work.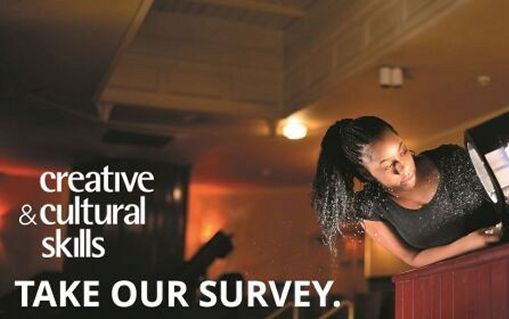 The team at Creative & Cultural Skills recognise it's a time of extraordinary change for the creative and cultural sectors and we all need to adapt.
They would love to hear your thoughts. Their work is always based on real evidence and experience, so they want to evolve their offer in response to your insights.
The survey only takes 3 minutes and you'll be asked about your recruitment and skills challenges and how they might best support you.
TAKE THE SURVEY HERE

All data is anonymised during the evaluation process, and in subsequent reports and publications. In some instances, they may follow up with participants to ask further questions about their responses, if they have provided the relevant contact details. Data is held securely within CCSkills internal file systems, in compliance with GDPR. Data is only accessed by appropriate staff involved in processing and analysing the data.

About Creative & Cultural Skills
At Creative and Cultural Skills, we want to see a fair and skilled cultural sector, that's why we exist. Our collaboration with employers means we understand what they need, and our regular research means we stay up to date. We're helping to inform the future of work in our field - not just for economic growth but for social impact too - and because it makes good sense.
To receive more news, stories and campaign updates from the creative and cultural industries please sign up for the CC Skills Newsletter here.