Meet Paul Shorrock, Rich Picture Illustrator
13 February 2020
In our next blog featuring creative talent from across Lancashire, we'd like to introduce you to Paul Shorrock. Paul is a freelance illustrator specialising in Rich Pictures, who joined the Creative Lancashire directory in late 2019.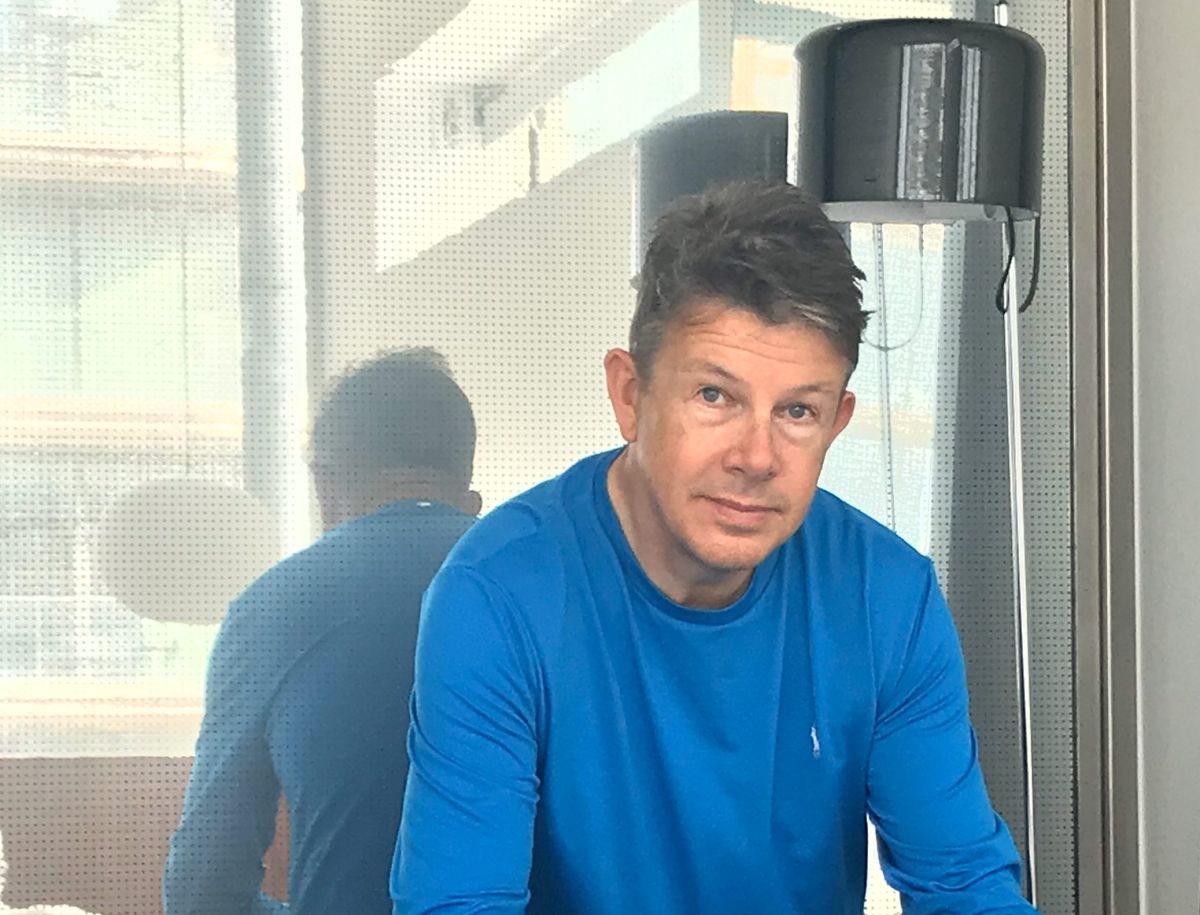 Paul Shorrock has been an illustrator since 1985, working across many disciplines during that time, including editorial, design and advertising. His work has appeared in lots of quality publications such as The Financial Times, The Guardian, The Sunday Times, GQ, Design Week, and Time magazine.
Rich Pictures, Paul's specialism since 2006, are a form of corporate communications which use large drawn images rich in information and visual metaphors.
Working from his home studio in the Ribble Valley, Paul has completed over 70 rich picture projects to date. Many of his commissions are for large organisations in the private and public sector. Paul is widely recognised as being one of the best Rich Picture Artists working in the UK, with an impressive roster of clients including Sainsbury's, BAE Systems, the NHS, Transport for London and Highways England. Paul also collaborates with several consultancies, including PwC, Atos, Spitfire and JAC.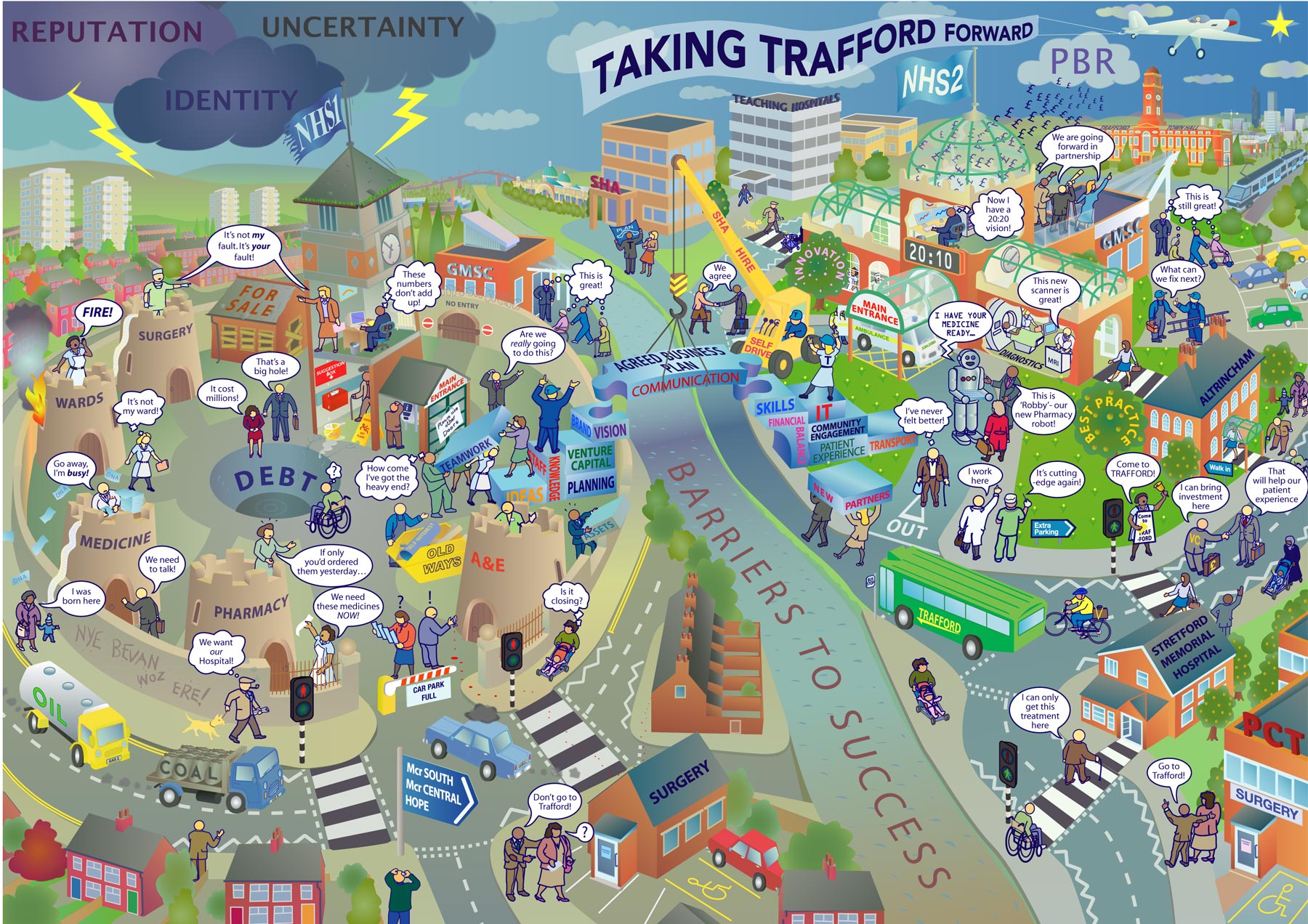 "The great thing about a Rich Pictures", explains Paul, "is their ability to communicate a great deal of information about a complex subject to a diverse audience. In addition, the process of creating a Rich Picture really helps the client team understand all aspects of their story and to own the vision. There is something about visual communication that embeds the ideas in the viewers' brains much more effectively than words alone."
Rich Pictures can also be used as part of a company's bidding process to outline the benefits of a business offering in greater detail. It is a visually effective way to get your points across. They can include humour and visual metaphors that help involve the audience and get the messages to stick.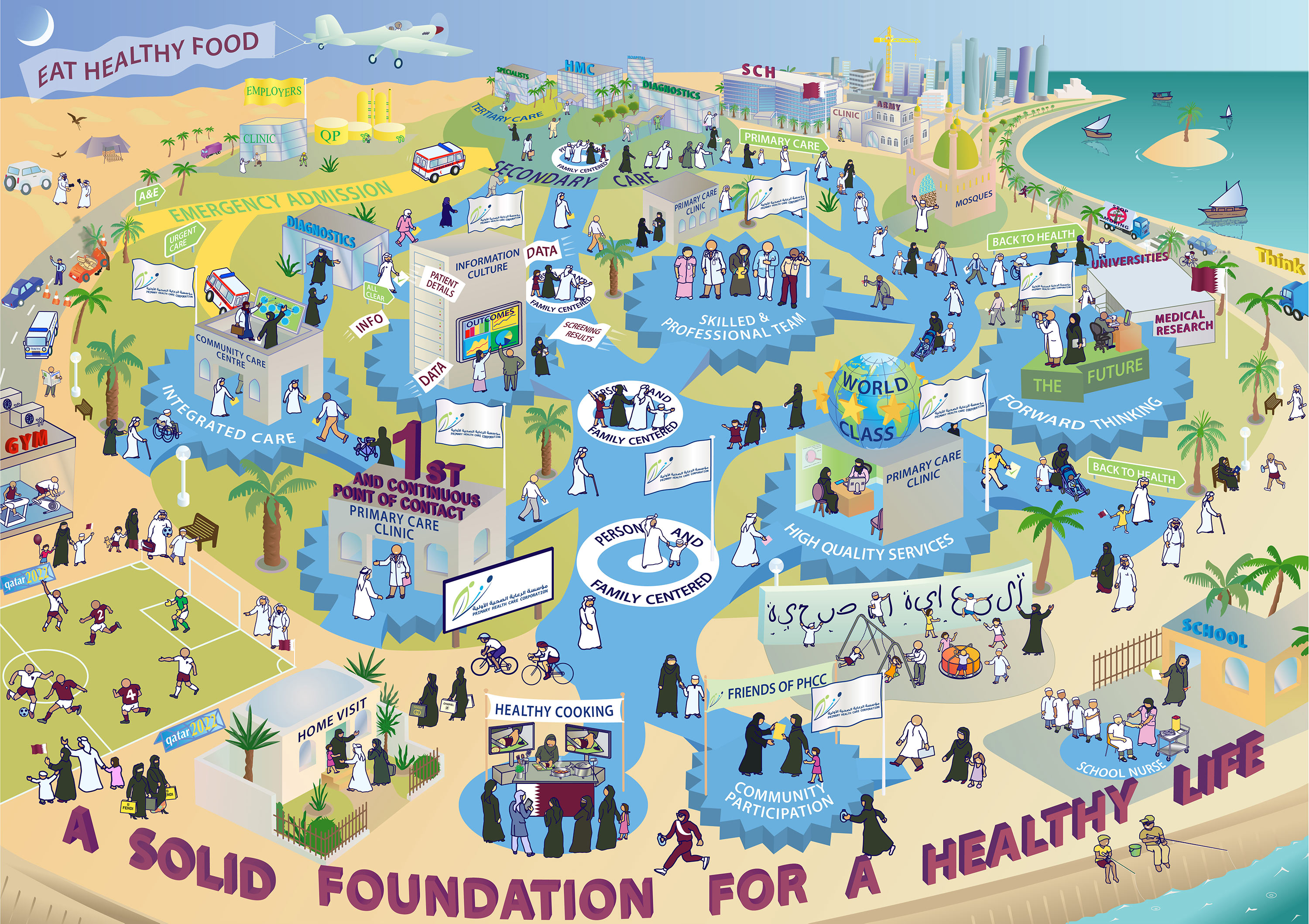 The benefits of working with Paul are clear from his explanation of the process:
"The Rich Picture process is low-risk and affordable, with the client fully involved at every stage. Whether the client has a clear vision to communicate or is faced with complexity and uncertainty, a Rich Picture is a proven method of helping to clarify the thinking into a unified whole. A much preferable alternative to 'Death by PowerPoint'!".
Rich Pictures are not just for top-down communication, they can also capture the opinions from the shop floor. Paul is used to working across all levels within an organisation, from the Boardroom down. He loves getting to grips with business problems and helping capture visually the narrative that explains the "how?" and the "why?" of change programmes. It's great for morale if the viewers can see themselves in the future state part of the picture.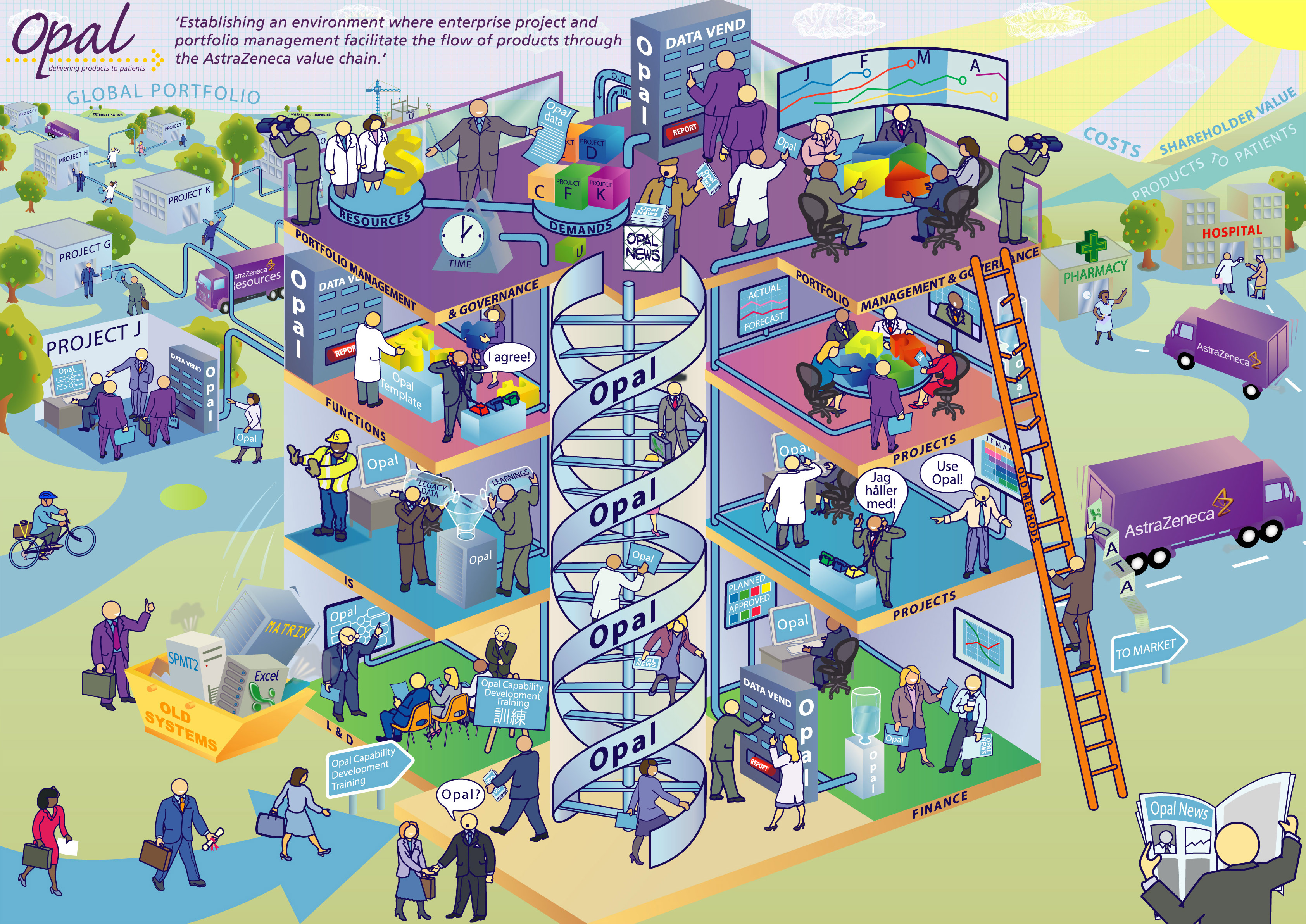 An ability to draw in primary school inspired Paul to pursue a degree in Graphic Design from Liverpool University, and then a flourishing career in London. He and his family moved back North in 2004.
Paul decided to join the Creative Lancashire member directory, as he is always looking for new ways to spread the message about Rich Pictures, and the directory is an opportunity to find new markets for his work.

The majority of his work contains sensitive information that he is unable to share online, which can create a tension between the need for self-promotion and client confidentiality. Paul feels fortunate that he gets a lot of referrals, but it can sometimes be frustrating not being able to show his best work in his online portfolios.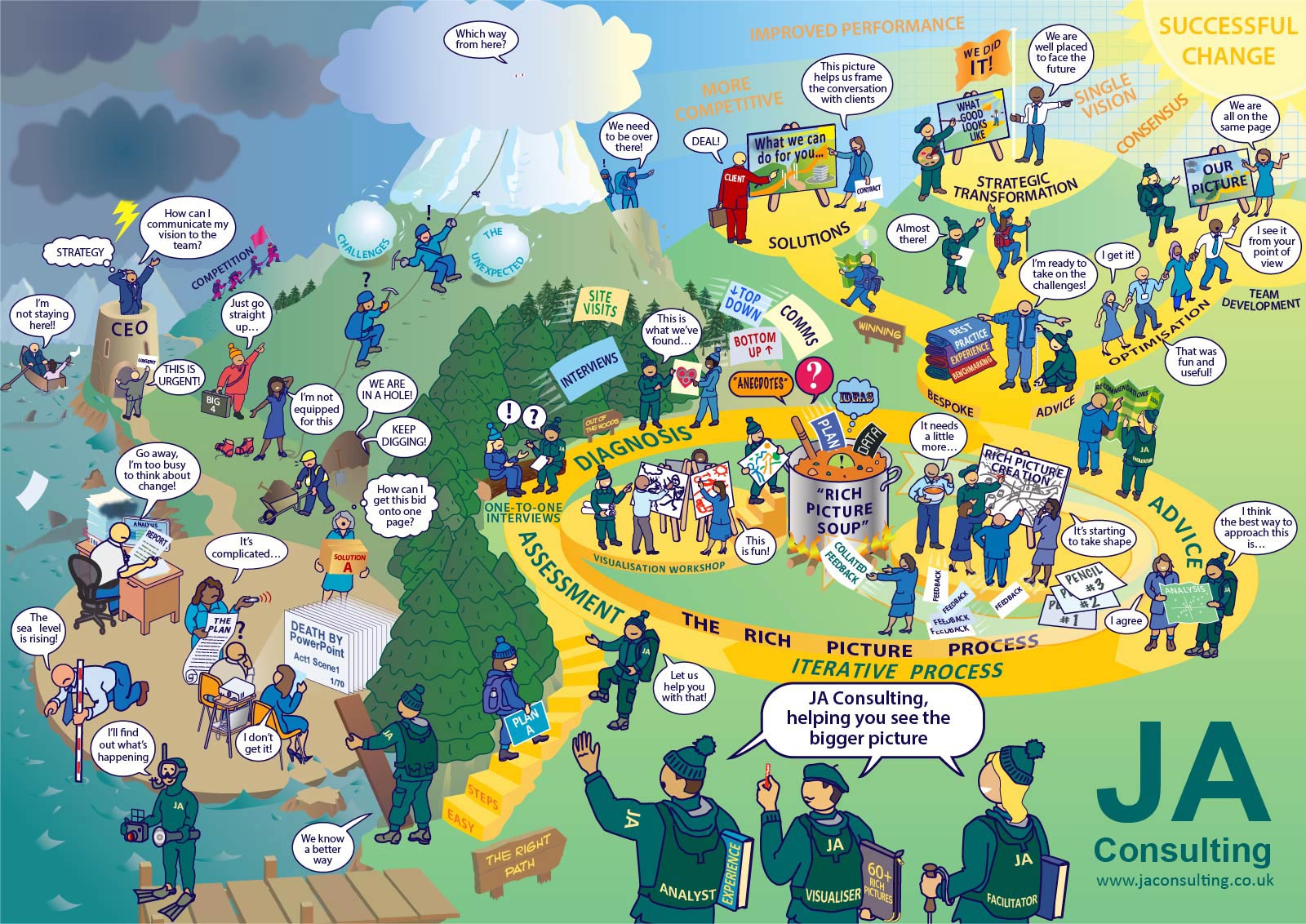 Another reason Paul signed up to the directory and newsletter was for the sense of community: "It's sometimes a bit isolating being a one-man band, so it helps to have an organisation like Creative Lancashire in your corner. I'm a creative from Lancashire, so it seemed like the sort of place I'd belong."
Paul's wife - Christine Cort - is also working hard to support creative industries in the region. Christine is MD of the Manchester International Festival and the new multi-disciplinary Arts venue The Factory, coming soon to Manchester.
We asked Paul what he thinks Lancashire and the North West have to offer that other regions might not:
"I'm a proud Lancastrian but my clients are national and international. I don't think any of them give much thought to where I am based, as long as I turn up on time (I always do!). Personally though, I find Lancashire a great place to live and much less stressful than living in London. The North West is becoming a cultural and creative hub to challenge the dominance of the South East. All that and the better quality of life in the North West can only help to build up the creative ecosystem in this region."
You can find out more about Paul's work via his Creative Lancashire directory listing: https://directory.creativelanc...

Paul's Website: https://paulshorrock.com/

Paul on LinkedIn: https://www.linkedin.com/in/paul-shorrock-richpictureartist/

Paul on Twitter: https://twitter.com/RichPictureMan

Every day, organisations from all sectors use the Creative Lancashire Directory to find the creative skills and expertise they need. Upload your profile HERE.