Make North Launching Lancashire-wide Home Pottery Service
28 June 2021
Due to popular demand, what started as a temporary alternative service for Make North during Covid, is now becoming a Lancashire-wide opportunity for anybody to experience making proper pottery in the comfort of their own home.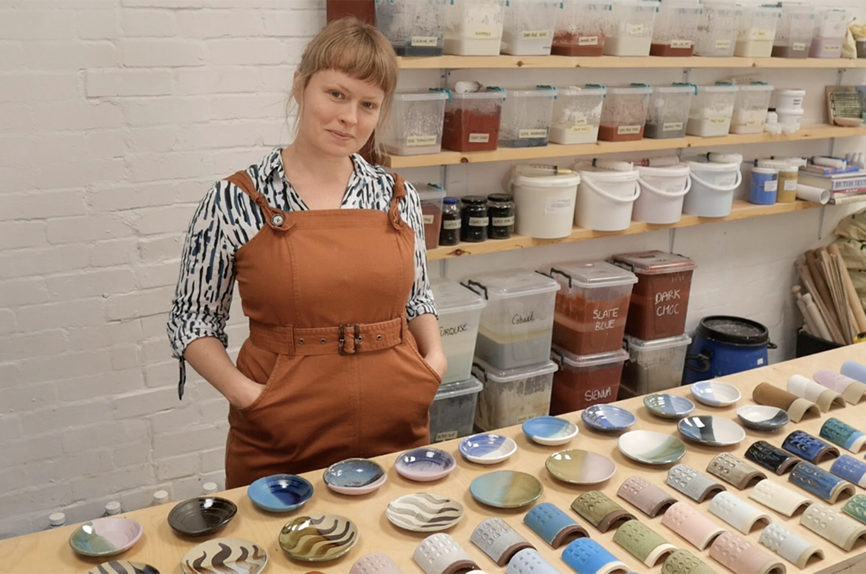 Make North is pivoting to embrace the flexibility brought about by the pandemic.
Make North opened in August 2019 in Preston City centre, as a community craft studio where members could facilities such as pottery wheels and print benches, as well as formal courses. Seven months after opening Covid-19 struck, and so Make North found themselves needing to adapt quickly. They launched a home-pottery service for members and along with Make North's director Louise Smith and their three other course-tutors spent the next year delivering clay to member's doorsteps, then collecting work to glaze and fire. Now fifteen-months later what was only intended to be a temporary fix is set to become a permanent way of operating.
As with many things that began during the pandemic, like the increased popularity of home-working and shopping online, Make North's members have adjusted to making pots at home and found that it really suits them. "Our members have embraced the flexibility that working from home offers" explains Smith "and at a time when finances are stretched for many, it is considerably cheaper for them too. It also means that we can support people who wouldn't be able to travel to the studio and our membership is expanding all over the North West".

Smith, who grew up in Preston, has worked in community arts for years, so understands first-hand the lack of opportunities to participate in the arts in many parts of Lancashire and views this new model as having exciting potential to reach many more people.
The Make North @home Pottery Box service will allow anybody to experience proper pottery in the comfort of their own home. Members will be able to work with real clay, choose from a huge range of glazes and have their work fired in a kiln. Every pot goes through two firings: first, they are bisque-fired to 1000 degrees, then the Make North team applies your choice of glaze before firing them for a second time to 1220 degrees. At this point the pots are food-safe and suitable for outdoor use.

Community is at the heart of Make North.
Make North already have a range of online tutorials, filmed during the first lockdown, and they will continue to add to these. Their pottery experts will also be available to provide advice to members, whenever needed.

Smith is enthusiastic about the many benefits of clay, "It's such a tactile medium and really therapeutic" she states "and the exciting thing about clay is that once you understand the basic techniques the possibilities are endless. You can create anything from functional table-ware to expressive sculptural work. And seeing your pots come out of the kiln is so exciting, we interact with pottery in our daily lives, so we kind-of understand it, but the process of transforming raw materials into finished pots, involves a sort of alchemy- it's a little bit of magic."

Community is still very much at the heart of Make North, as is seeing people face-to-face, and Smith is planning on running run pop-up workshops for members, in locations around Lancashire, as well as regular online events and continuing the monthly challenges.

Make North's generous community have helped them survive.
The images above show pots made during January's Lockdown, when Make North ran a competition shadowing Channel 4's 'The Great Pottery Throwdown', with their own scaled-down challenges. From left to Right: Art Déco Decanter by Carole Buck, Whale Garden Sculpture by Emma Lumley and Zebra Cheese Dome by Pauline Lowther.

The past 16 months have been tough for Make North. Timing and situation were doubly against them, they were a few months too new to apply for a Cultural Recovery Grant and just slightly too small for a Leisure and Retail Grant.

Smith is keen to point out that they have survived thanks to the enthusiastic and generous support of their members and tutors, and she hopes that the next stage of Make North's journey will be a success and allow them to continue supporting everyone involved and encouraging them on their creative journey.

More information on the Make North @home Pottery Box service can be found at makenorth.org.
All images by Louise Smith.