Local Digital Capital Index 2022
28 October 2022 by Ed
techUK's second iteration of the Local Digital Capital Index has been developed with our partners at Henham Strategy, as a tool for businesses and policy makers to make informed decisions regarding digital strategies and activity, providing a clearer picture of what it truly means to create a strong local tech sector.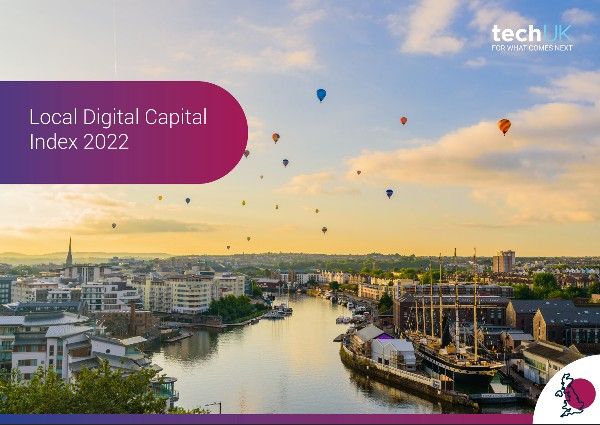 Local Digital Capital Index 2022
The Local Digital Capital Index is a guide that describes the impact and value technology can bring to a region, showcasing its strengths and providing direction for development. It can be used by policy makers to address the challenges faced by each nation and region in the UK more confidently using data that shows where investment should be directed. The Index helps build a strong tech ecosystem between sectors, policy makers, companies and government by providing data that encourages collaboration between regions.
The Index is aimed at supporting local tech ecosystems across the UK and encouraging investment, collaboration and further activity in those areas. That's not because the tech sector as it stands isn't contributing to the economy. It is. It's because we know that for the tech sector in the UK to achieve its true potential, and for the UK economy to achieve its true potential, it will require a strong, skilled, connected and well-distributed tech sector. techUK launched the Local Digital Capital (LDC) Index in 2021 having spoken to over 260 public sector, civic, academic and business leaders as part of the Building the Future We Need campaign.
The challenge going forward for the Government and the sector is ensuring that no area of the UK is without the capacity and capability to allow businesses, citizens, public services, third sector parties and others to be included in the advancement of digital technology and the benefits that it brings.
The LDC Index and subsequent recommendations show this is possible, and by engaging and unleashing the talent, energy and innovation of the sector we can move from the prospect of being possible to one where it is probable.
Download the full report here