LGBT+ history month
01 February 2022
It's LGBT+ history month, and this year is the 50th anniversary of the first Pride March in the UK. This year is themed to politics in art.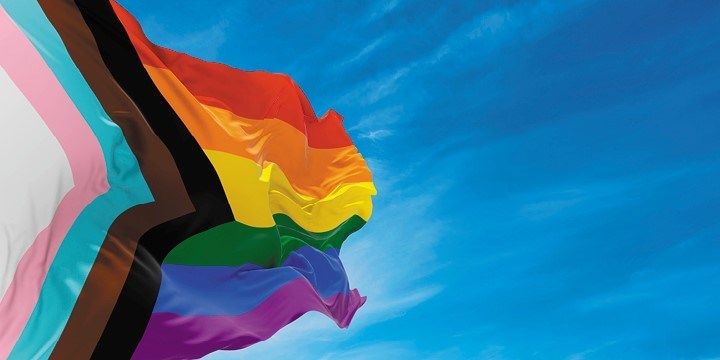 by Jamie Haynes
Lancashire itself has played an important part in LGBT+ history when the Campaign for Homosexual Equality held the first British gay rights conference in Morecambe, Lancashire back in 1973.
LGBT+ history month is a time when we celebrate LGBT+ people of all kinds, as well as seeking to educate people and encourage people to educate themselves about LGBT+ history. Our history is filled with prejudice and hatred towards those under the LGBT+ umbrella, and it is important to dedicate some time to confronting that prejudice and celebrating those who have lived and loved before us, and paved the way so that LGBT+ people today can be our own unique selves.
This year is themed to politics in art. Art and politics have long intertwined in LGBT+ spaces; think of the first rainbow flag, made in 1978 by Gilbert Baker, or the AIDS quilt created to commemorate the lives of those who died of AIDS-related causes. The tagline for this year is 'the arc is long', which is taken from a quotation by Dr Martin Luther King Jr: 'The arc of the moral universe is long, but it bends towards justice.' Five artists have been chosen to embody this theme:
Doris Brabham Hatt, an artist and activist whose paintings were meant to bring order from chaos. She was a socialist and a feminist; she lived with her partner Margery in a house of her own design. This became a place where she could host free art classes and where people could meet and talk about art and politics.
Keith Haring, an American pop artist who advocated for AIDS awareness. He produced more than 50 public artworks throughout the 80s, many of which carried important social messages. After his own AIDS diagnosis in 1988, he established a foundation to provide funding to AIDS organisations.
Jean-Michel Basquiat, an American artist with Haitian and Puerto Rican heritage who started as a graffiti artist. He was the youngest artist to exhibit at the Whitney Biennial. His work used social commentary to attack established power structures and racist systems. It was directed at criticising colonialism and supporting class struggles.
Mark Aguhar, a transfeminine Filipino-American artist whose online activism was focused on gender, beauty, and race. She created art for those outside the gender binary, affirming the beauty of brownness, femininity, and fatness. She expressed herself and her experience as someone marginalised by the world in their art, making herself visible despite growing up learning to hate every aspect of herself.
Fiore de Henriquez, an Italian artist whose intersex identity informed her sculpture. She created many androgynous or conjoined figures, with a motif of paired heads reflecting her dual identity. Between 1948 and 2004, she produced 4000 portrait sculptures of many people, including Oprah Winfrey and Laurence Olivier.
This LGBT+ history month, we invite you to learn more about the five artists mentioned above, and on the wider theme of LGBT+ art and artists. The LGBT+ history month website has some fantastic resources to explore.
Jamie Haynes is a Business Support Officer with Lancashire County Council Adult Services.