#IWD2022: Creative Women - Angy Young
03 March 2022 by Michelle
To celebrate International Women's Day on Tuesday 8th March 2022, we're hosting a series of feature interviews with dynamic, trailblazing and courageous women working in creative fields who have a connection to Lancashire. Angy Young leads Blackpools School of Arts' Fashion & Costume Degree course.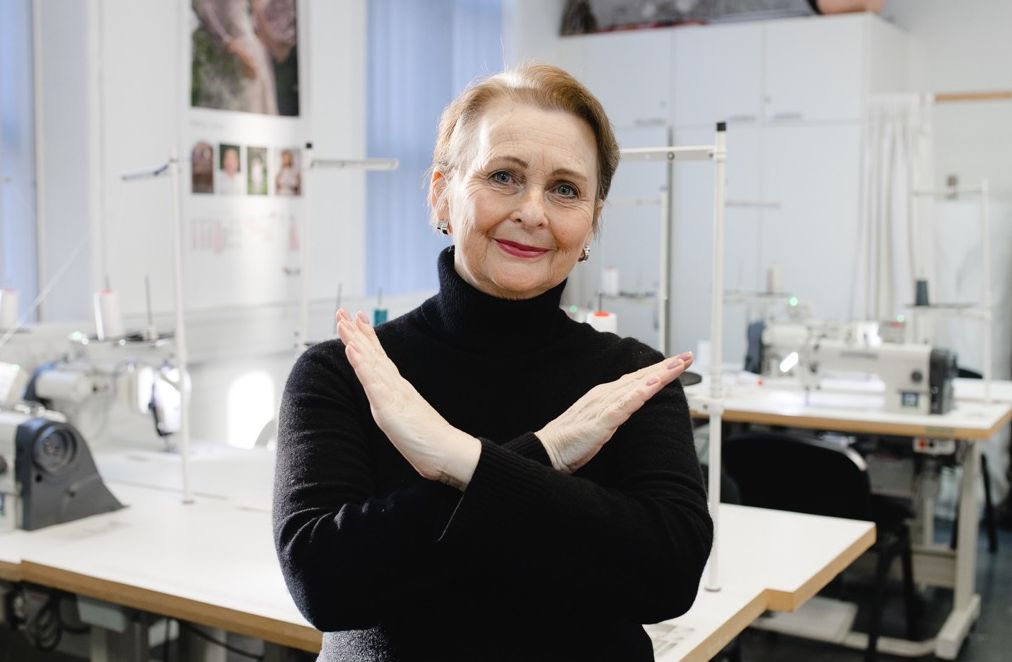 International Women's Day is an annual event that has been celebrating women since 1911.
This year's theme of #BreakTheBias continues the global call to stand up for a more equitable and inclusive world free of discrimination and stereotypes. This initiative is an opportunity to honour the women in your life and encourages us all to take action for equality, so that we can forge a gender-equal world.
Meet the next of our featured women for this year's Creative Lancashire International Women's Day campaign.

Angy Young is the Programme Leader for the Fashion and Costume Degree course at Blackpool School of Arts.
She is also involved in the development of adult courses for the local community and fashion course materials focused on sustainable practices. Previously Angy, worked as a freelance costume designer as well as consulting for a London-based fashion brand.
Angy, tell us a bit more about you?
I was born locally and have lived in Blackpool all my life.

I have worked at Blackpool and The Fylde College for 25 years, and developed the first fashion and costume degree at the college in 2010. I have been Programme Leader for fashion at Blackpool School of Arts since that time.
I am also currently leading a new development 'The Adult Art School' which aims to open up the wonderful resources we have in the school to the local community and help to develop an exciting and vibrant group practice.

Our latest initiative is a one-year degree level programme, Fashion and Costume with Sustainable Practice.

This is a new and unique approach which offers an opportunity for students to study an intensive higher level qualification incorporating technical training and practical elements and will be highly desirable to local adult students, raising their confidence, supporting a career change, or progression in a current career, and developing an enterprising approach.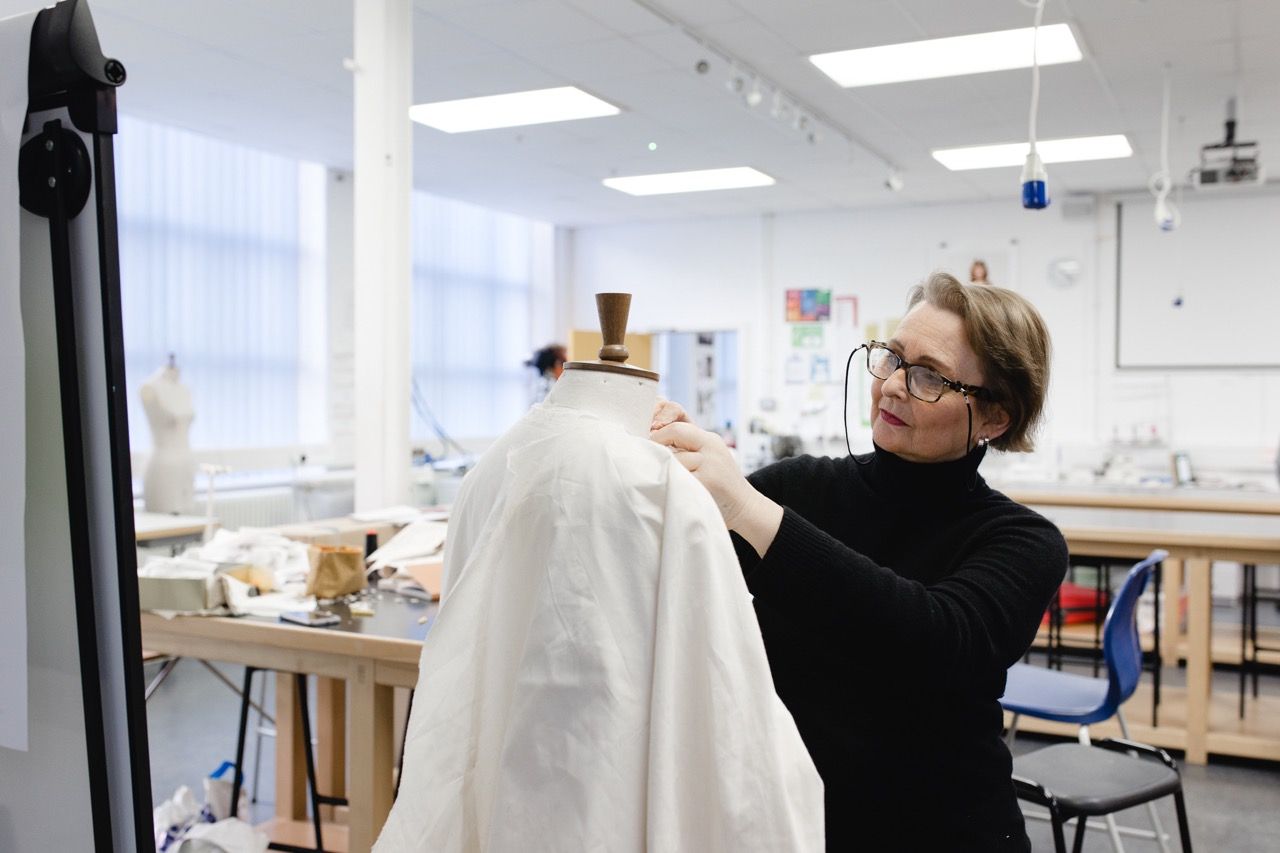 In my past career I have worked as a freelance costume designer and maker in the local area, and have also worked as Creative Consultant for This is The Uniform, a London based fashion brand.

My daughter Jenna is the creative director and designer and we spent five years working together producing collections which were shown in London and New York Fashion Weeks.

Jenna has now begun a teaching career and works at The Royal College of Art on the Fashion Masters Programme, and as Senior Tutor at Morley College in London, which is a similar type of establishment to Blackpool and The Fylde College and we have a strong creative and academic working relationship.
In 2020 I was diagnosed with Breast Cancer and was unable to work for six months. Whilst I was recovering I began CONVERT; a project I am about to present in a group exhibition with the theme of sustainability, which will open at the University Centre Gallery at the beginning of April this year.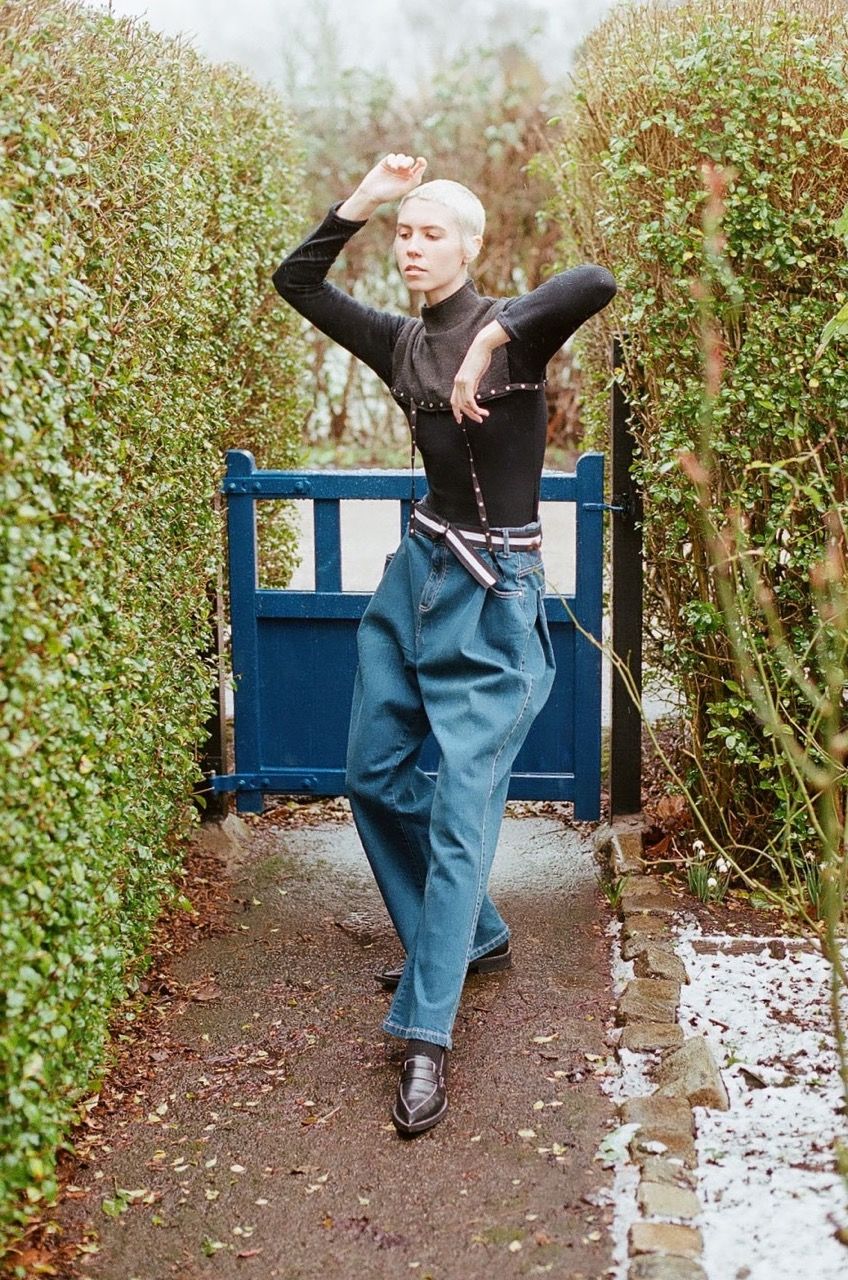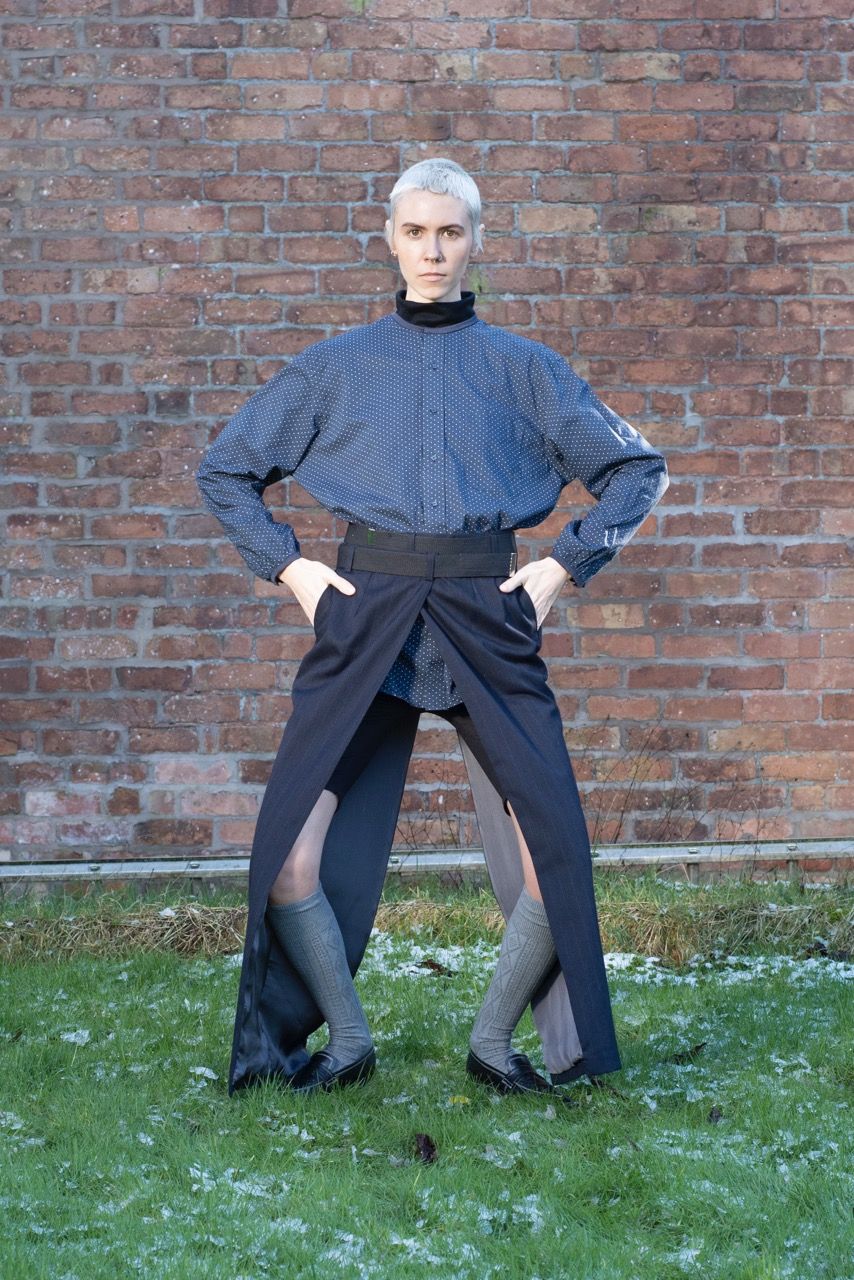 Tell us more about the CONVERT Project?
The project supports the academic research undertaken for the development of our new sustainable programme and is a collection of garments made entirely from repurposed materials.

I work mainly with second-hand garments purchased from charity shops, many people simply don't know how to care for these types of garments, and at the first sign of wear or a tiny moth hole they are simply discarded, I always want to save them and continue their journey.

I repurpose them to create a range of unique bespoke pieces which are designed to appeal to eco conscious stylish individuals. There has in the past been a lack of trend led sustainable fashion and I aim to develop wearable pieces that are innovative in both process and aesthetic.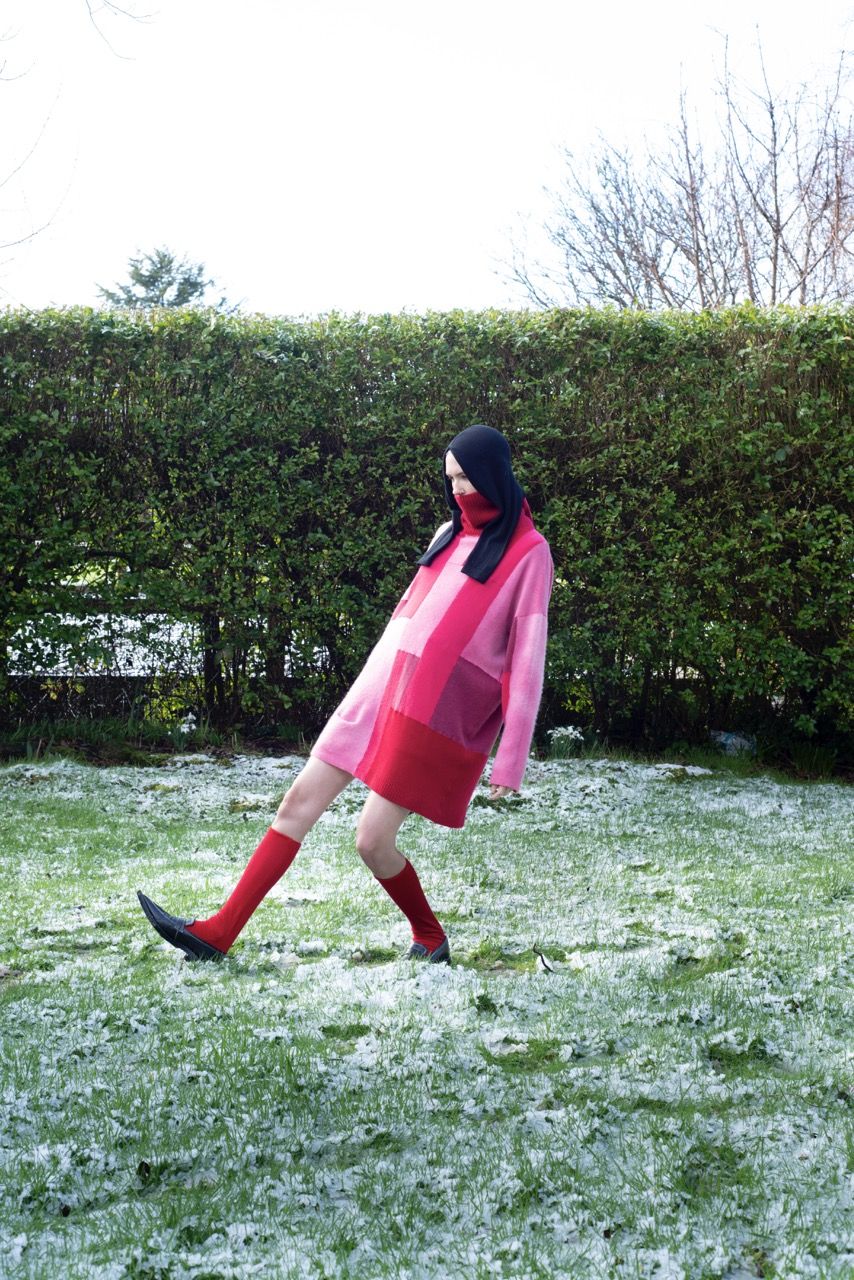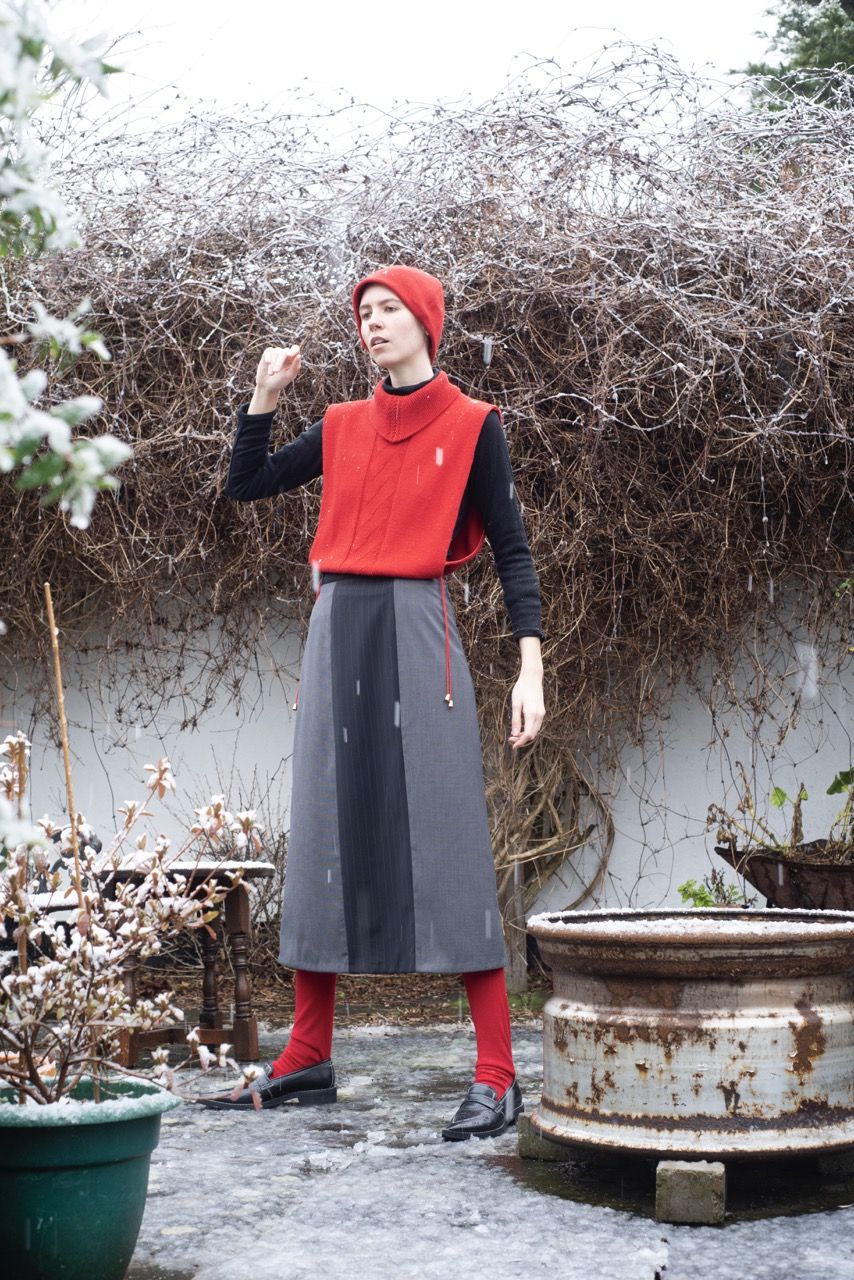 What inspired or motivated you to do the work you do?
I have always made clothes, it was a kind of compulsion when I was younger to work with fabric image and identity. I began work as a freelance costume maker when my family were young and later I had a more formal education through what was a vibrant adult education programme at the time.
Sadly, these types of courses are no longer available, which I why I am currently working to redevelop this provision. The adult learners that I currently teach are motivated and enthusiastic and, as has been widely reported the lockdowns of the pandemic seem to have allowed people to access creative practice as a way of developing mental wellbeing. I am incredibly inspired by this.
I am focused on creating awareness on how to approach fashion in a sustainable manner. It worries me that children do not know the path that their clothes have taken to reach them, that we do not make them aware of this, encouraging them to place value on garments in terms of human and environmental input.
This is why we have incorporated sustainable practice into our new degree programme (currently being validated) and what is currently driving my own creative practice through the project CONVERT.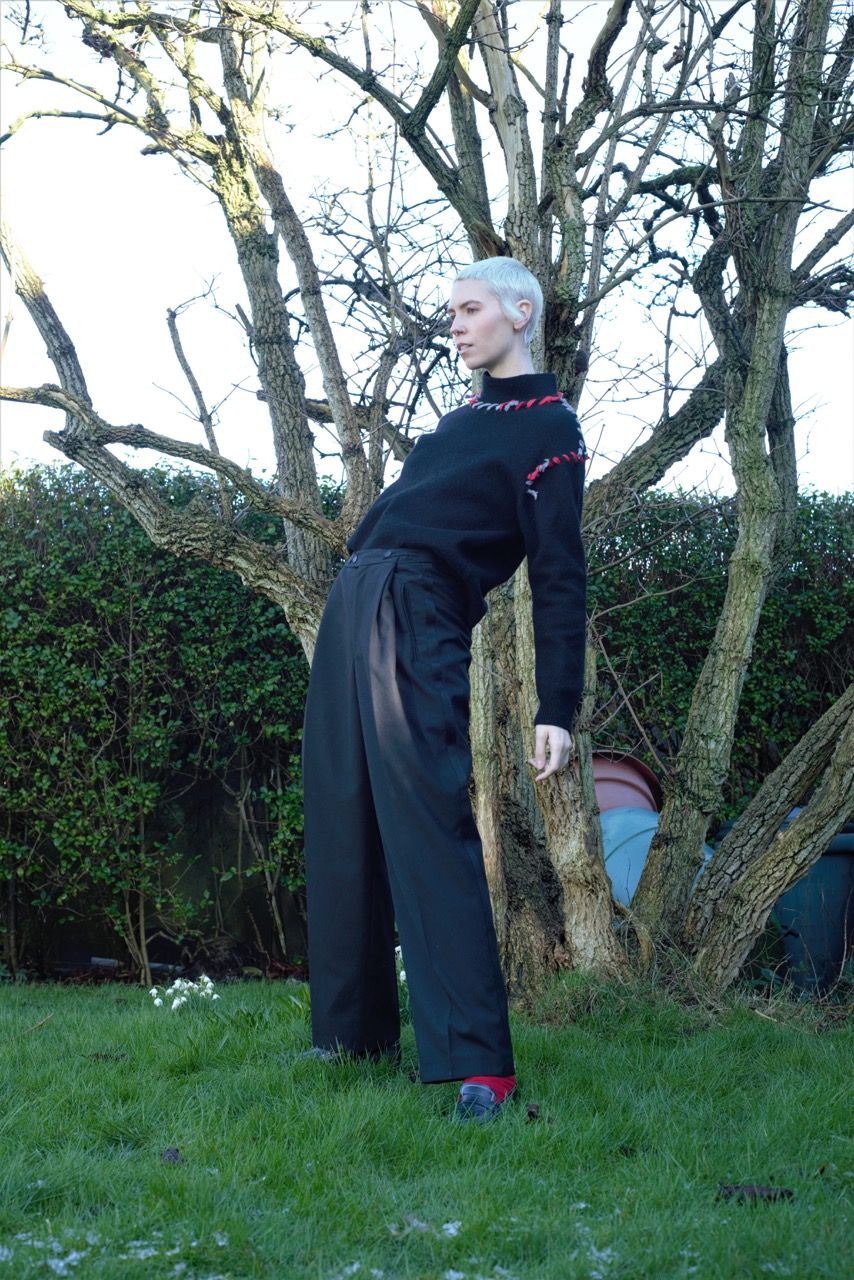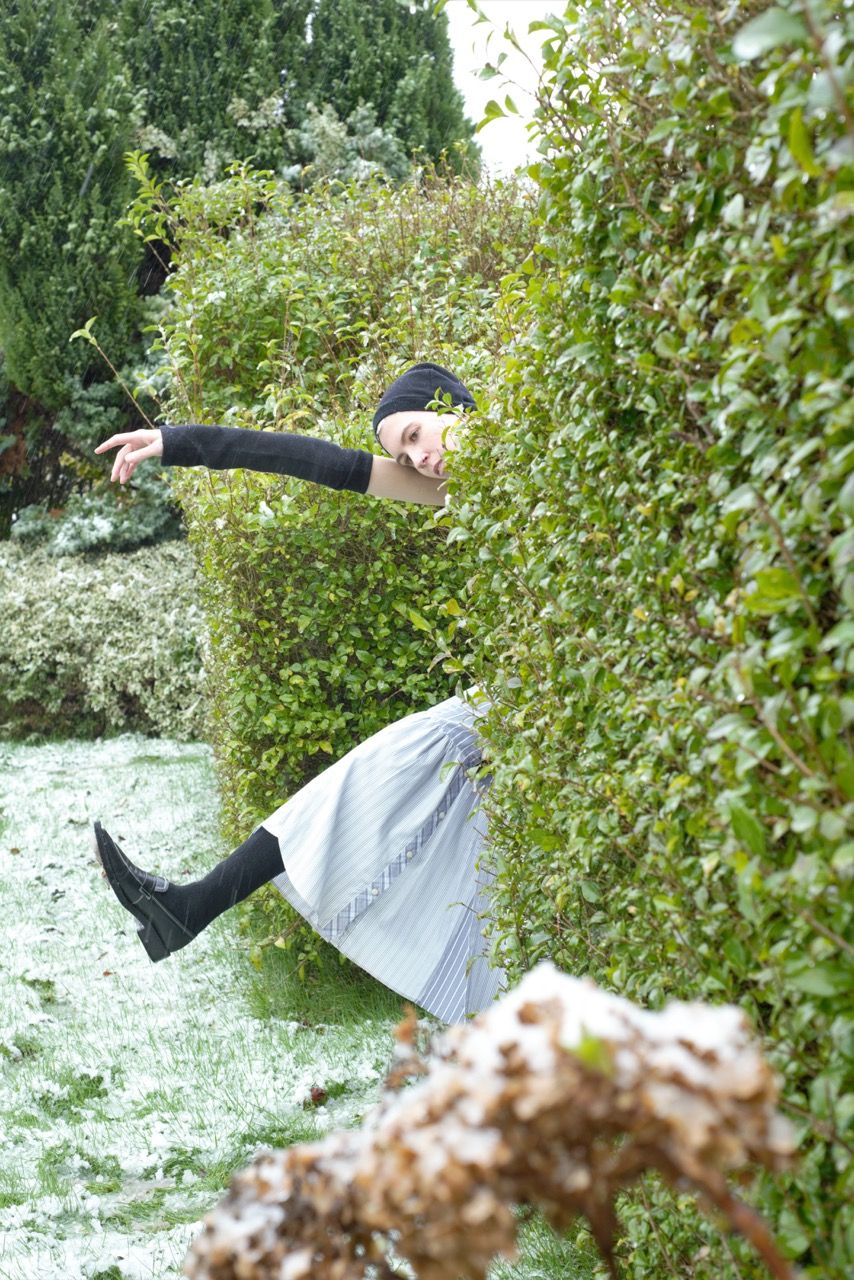 What do you love about being a creative and working in the North West?
Creativity can flourish anywhere, we just have to be mindful of our student's individual needs and aspirations.

Fifteen years ago it was considered vital for a Northern graduate to migrate to London in order to attain the cultural capital necessary for a career in the creative industries. This has changed with the development of the internet, social media and easy transport links.

There is also a currently a shift towards a more localised approach to working in fashion, young designers who made the move south are relocating and using the North as a base.

Working in the North West is inspiring through its people, its honesty, and its character. This is not to say that these things don't exist in other areas. However there is a certain grit and humour here that I find helps to keep your feet on the ground.
Any advice for women starting out or making their mark in creative industries?
I would say to always expect the best, of situations and people, who will often treat you how you expect to be treated.

Have confidence in yourself, but respect everyone and everything for what they can bring to your world and you won't go far wrong.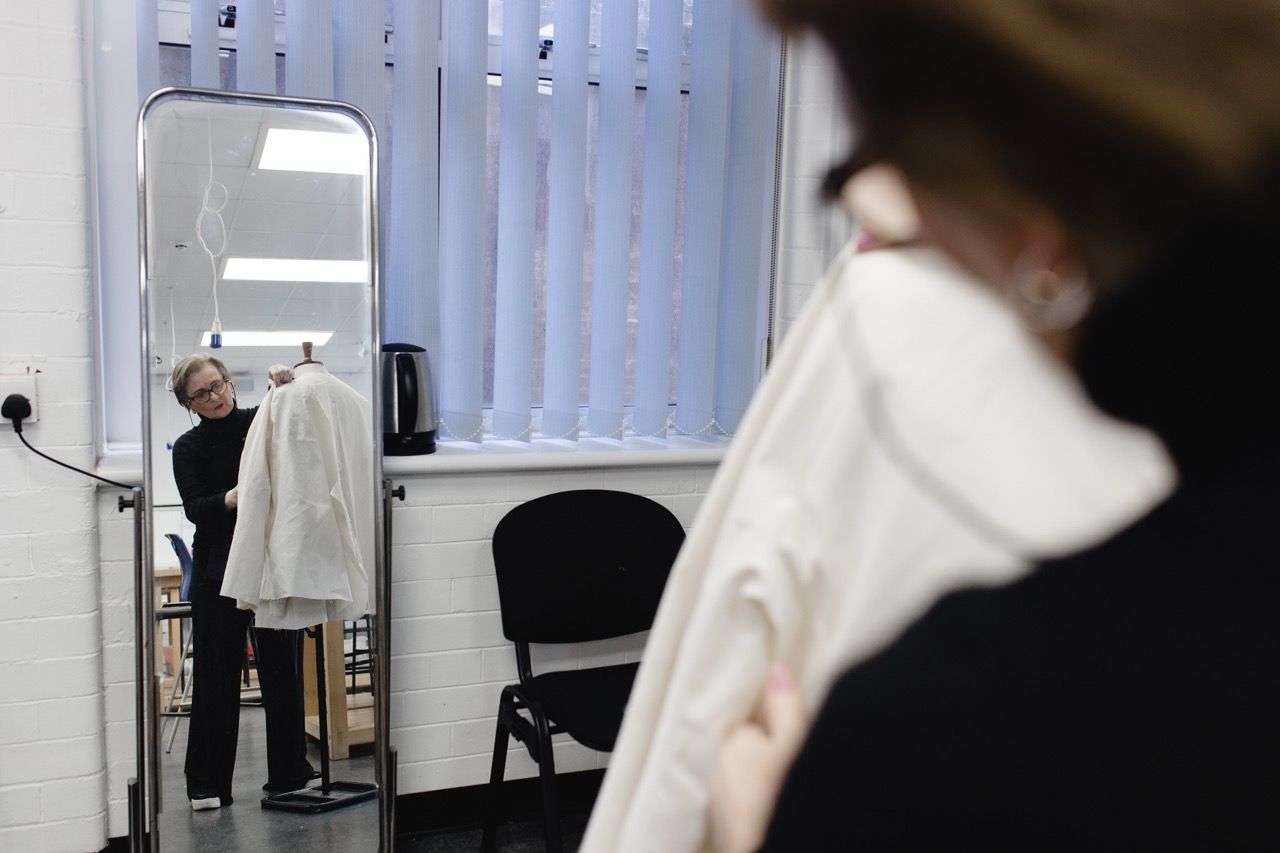 From a creative perspective, what do you think Lancashire or the wider North West has to offer female creatives, that other regions might not?
For me it offers grounding, reality, honesty. Perspective, which there is little of in London.

I also think there is the possibility of it offering space, both in a physical and mental capacity, which allows for a slower, more meaningful creative process, and a consideration of reason and necessity of the work. Like, why are we actually doing this?

In London, you can be swept from season to season without actually questioning if you are doing something significant or just filling the world with more rubbish.

In simple, logistical terms, it also offers an existence which can be less financially and economically taxing, leaving space and time for creative practice, which might otherwise be overtaken just by living and trying to live.
As an educator, designer and creative person how do you think we can create a more diverse, equitable and inclusive world in our schools, colleges and universities?
Blackpool is a socially deprived area, and the 2019 JNSA index ranked Blackpool as the most deprived of 317 Local Authority areas in England.

There are many residents within this area who struggled with formal education and lack any form of creative outlet. There is also a really big mental health problem currently and so it is really important that we provide an exciting and stimulating provision, aimed at creating communities, reigniting passions and encouraging involvement.

I see creative practice as a form of mindfulness, and as such can be a tool for life, not only to build a career but to create a secure sense of self.

I hope to develop the Fashion and Costume with Sustainable Practice Programme and the Adult Art School further with this aim in mind.
What are you doing as an educator to help #BreaktheBias?
I never give up on anyone, I work with individual students, getting to know them and their personal aspirations.

I believe that everyone deserves a great education, and that creativity is a tool for success.

I encourage all my students to believe in themselves and that they can be successful.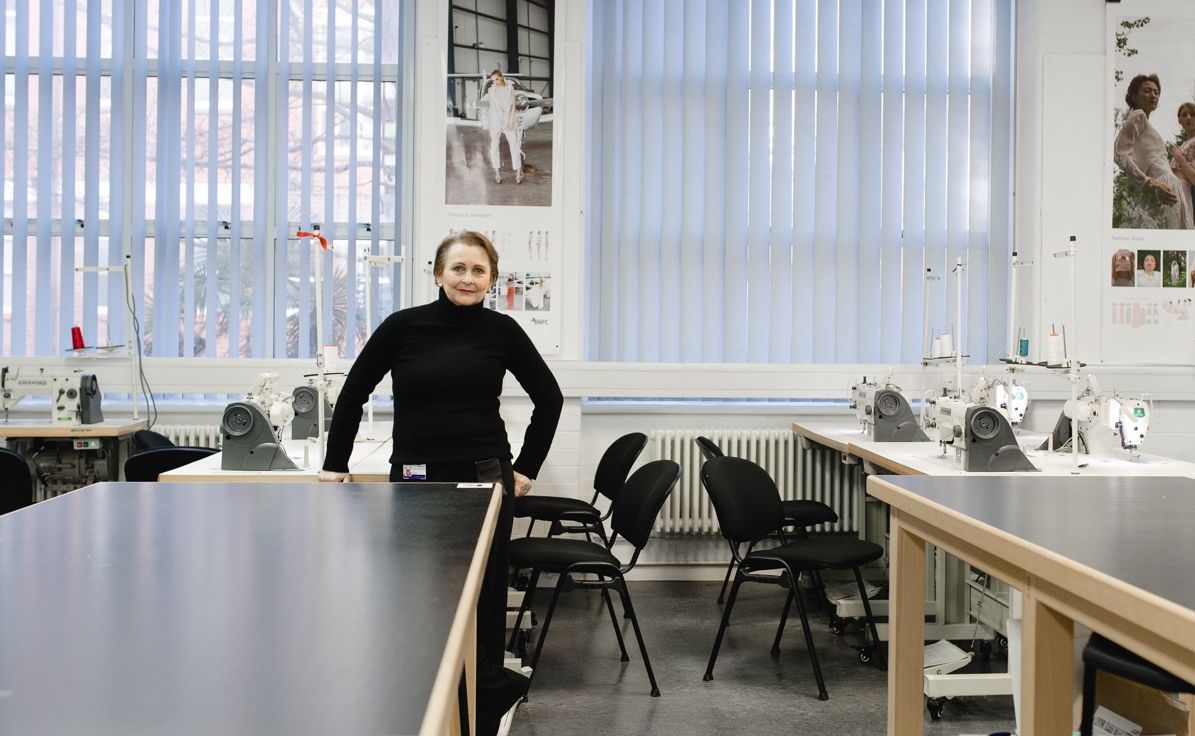 Instagram: @convert_fashion

Website: blackpool.ac.uk/school-of-arts
CONVERT Fashion Shoot - Image credits:
Photographers: Sally Sharpe & Jonathan Rowe
Assistant: James Hanks
Stylist: Jenna Young
Make Up Artist: Corrinne Valente

Model: Eryn Tett

Angy was photographed by Christina Davies for IWD22.
All portrait images in this feature article © Christina Davies.
Christina Davies is also known as Fish 2 Photography. She is a local photographer based in Preston, Lancashire who specialises in branding, interior, and commercial photography. Christina started her business in 2008 and loves working with small Lancashire and North West based businesses.

View Christina's profile on our Creative Directory here.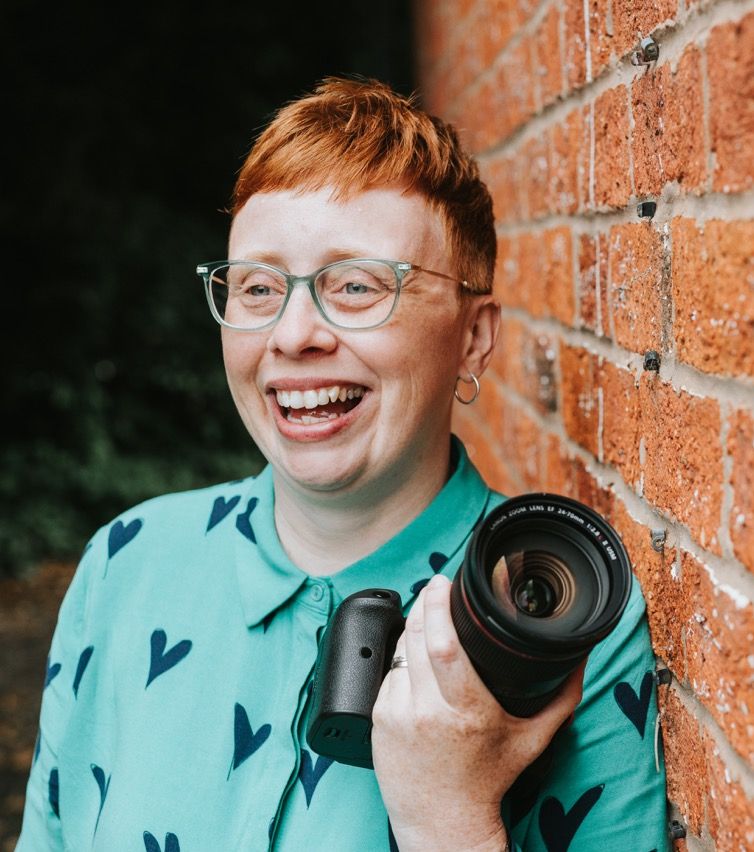 International Women's Day 2022
International Women's Day (March 8) is a global day celebrating the social, economic, cultural, and political achievements of women. The day also marks a call to action for accelerating women's equality.
IWD has occurred for well over a century, with the first IWD gathering in 1911 supported by over a million people. Today, IWD belongs to all groups collectively everywhere. IWD is not country, group or organization specific.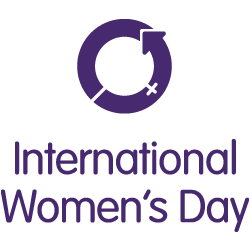 Break the Bias
Imagine a gender equal world.

A world free of bias, stereotypes, and discrimination.

A world that is diverse, equitable, and inclusive.

A world where difference is valued and celebrated.

Together we can forge women's equality.
Collectively we can all #BreakTheBias.