#IWD2021: Creative Women Profile - Sana Maulvi
03 March 2021 by Michelle
To celebrate International Women's Day on 8th March 2021, we're doing a series of feature interviews with pioneering and trailblazing women working in creative fields. We got to chat to Sana Maulvi, a Lancashire-based freelance abstract artist, about her recent collaboration projects that are challenging cultural norms and expectations.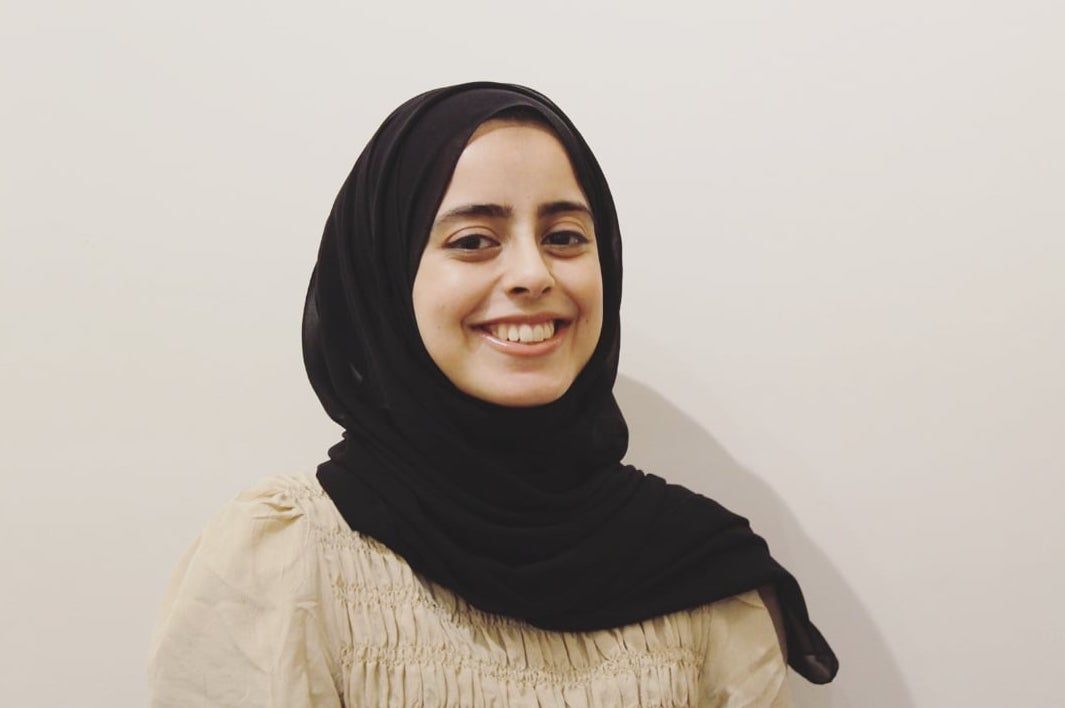 International Women's Day on 8th March 2021 is an annual event that has been honouring women since 1911. This year's theme is #ChooseToChallenge. It's a global call to celebrate women's achievements, raise awareness against bias, and encourage us all to take action for equality, so that we can forge a gender-equal world.
You can find links to all our interviews for #IWD2021 here.
Sana Maulvi is gently challenging the norms of her culture, to prove that she can be a successful female artist, whilst also performing the other roles expected of her by her community.

Sana, tell us a bit about you and how long you've been an artist?
I am a freelance artist from Lancashire. I have been running my practice for 3 years. I graduated with a first-class fine art degree from Lancaster University.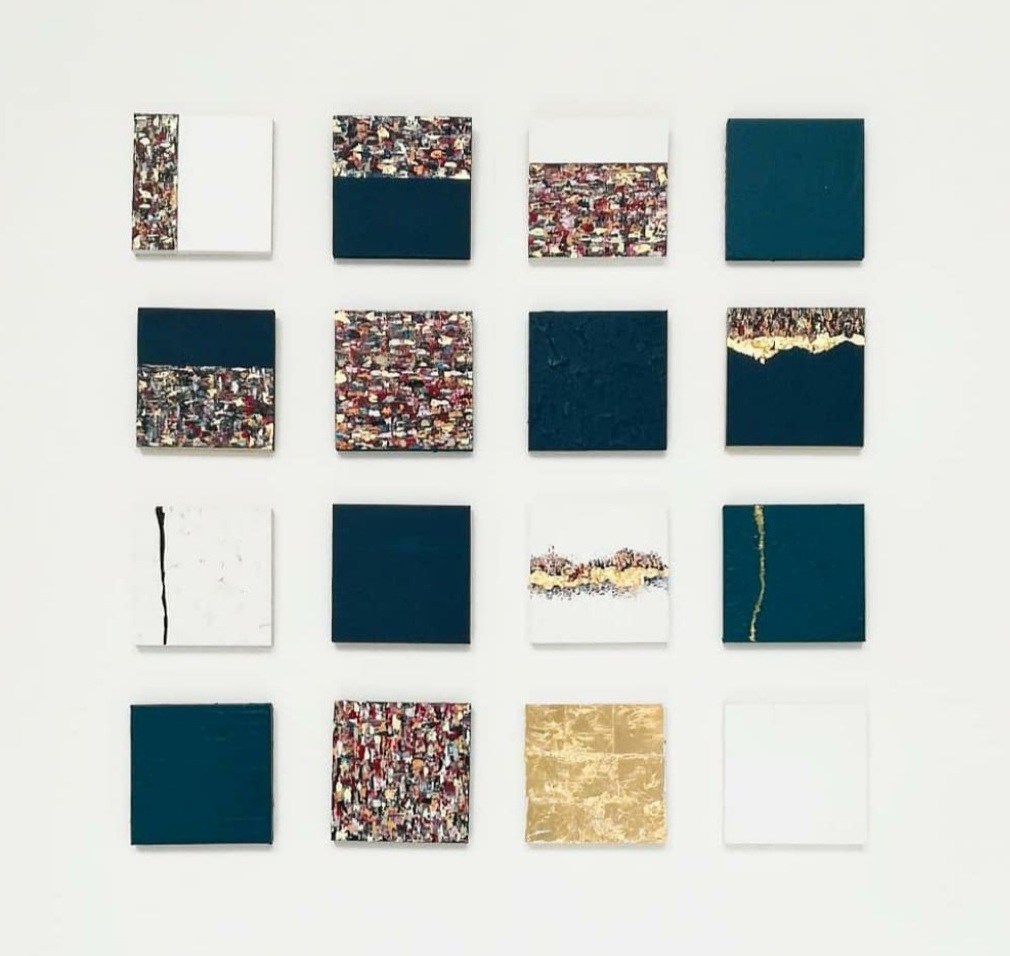 A selection of Sana's work
What inspired or motivated you to do the work you do and what do you love about being a creative and/or working in creative industries?
I love working in the creative industry as it gives me the freedom and flexibility to express myself through different mediums at my own pace. I love how I am always meeting and working with new people and getting to know their artistic journeys.

How have the events of the last 12 months affected your way of working? (e.g. Black Lives Matter, Covid, Brexit, etc). How have you pivoted or adjusted the way that you work?
The events of the last 12 months have affected my practice in unexpected ways. I have been involved in many projects, one titled 'Kick Down the Barriers' led by Blackburn Museum & Art Gallery, exploring Blackburn communities that have been publicly labelled as "segregated" and "divided" on national press, media and social channels.

Alongside artist Jamie Holman, we tackled this project by way of writing letters, which was intended to become a performance piece. However, due to the lockdown, these letters were performed on Zoom to a group of people and was available to view live for others on Facebook at the time. This was followed by a question answer session.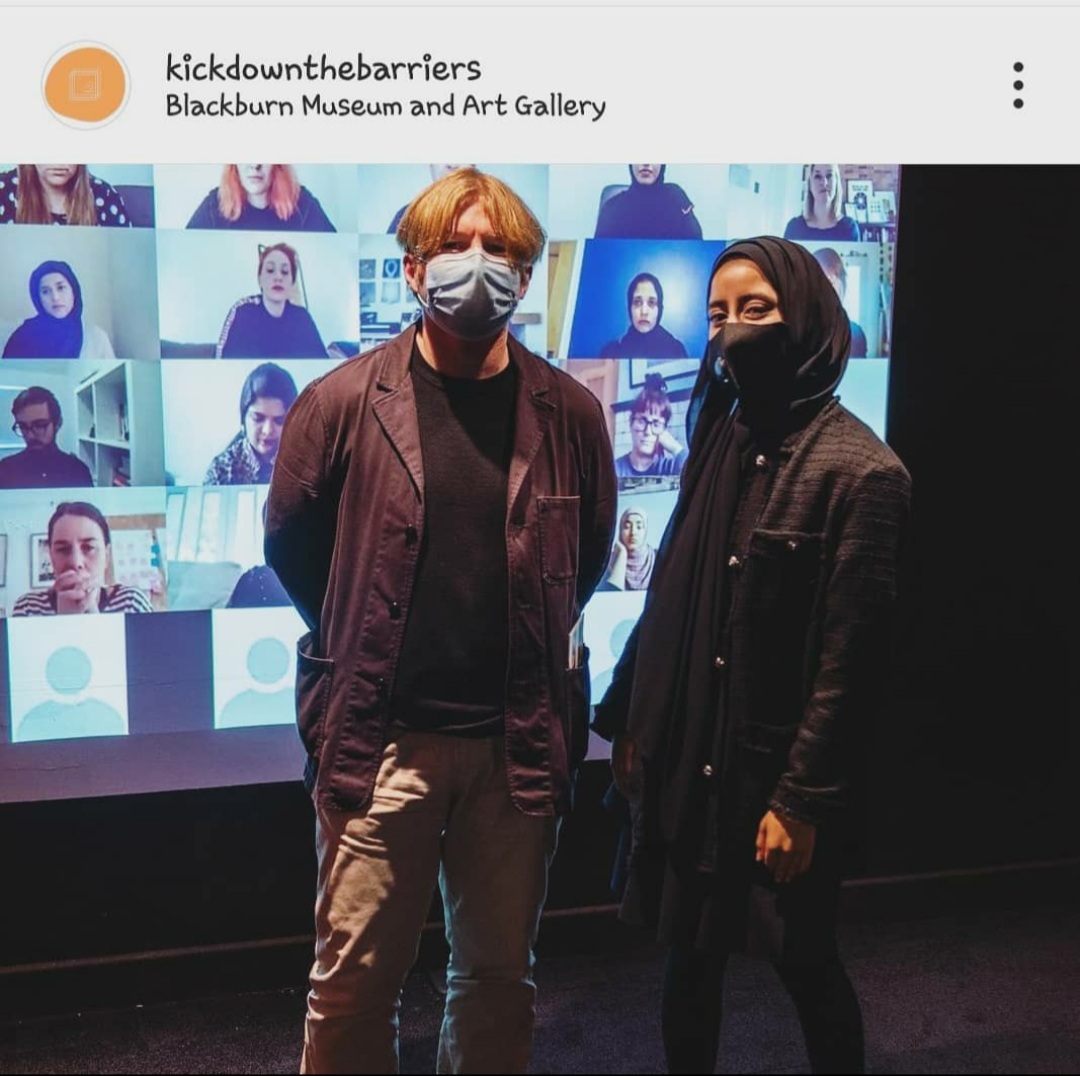 Sana Maulvi and Jamie Holman - Kick Down the Barriers Exhibition at Blackburn Museum & Art Gallery
I feel that Zoom gave the performance and the artwork a new dimension. The subsequent recording then became a video piece, which is now installed in the exhibition. Our letters were revealing the uncomfortable stereotypes and cliches as well as joyful moments we shared over the years.
It took a great deal of bravery and confidence to write what we did as a direct response to the BBC Panorama Programme 'White Fright' while the Black Lives Matter protests were also in motion. .
Furthermore, a more generic change was to wear a mask whilst working with others on community-led artworks. I recently painted a tuk-tuk at the Blackburn market alongside artist Cath Ford. This was very enjoyable, but also challenging as masks were mandatory while working.

Also, I set up my own at home studio for myself to carry on working on my paintings while the Prism studios were closed. The Prism Gallery helped all the residents of their studio by providing funding from the Arts Council to continue creating work over these uncertain times.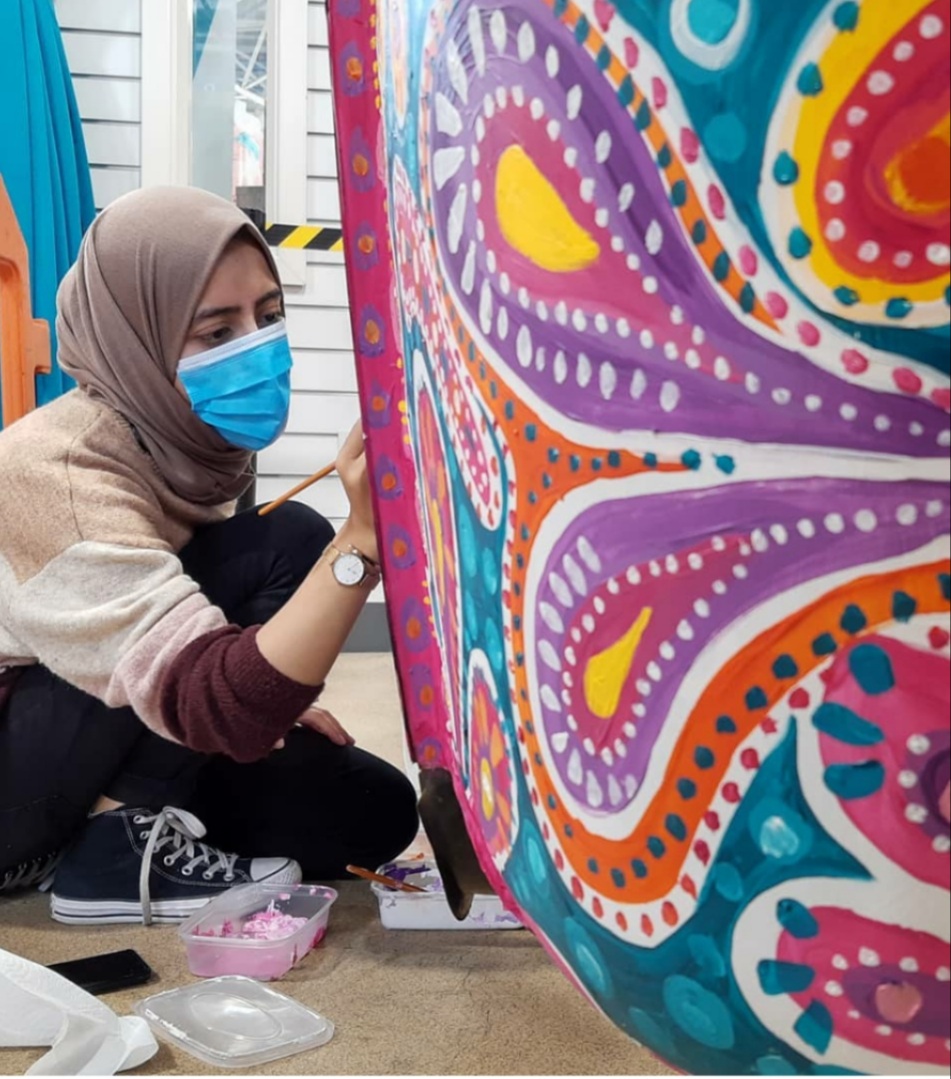 Sana Maulvi painting a tuk-tuk in Blackburn
The theme for IWD2021 is #ChooseToChallenge. How are you helping to forge a gender-equal world? What issues are you choosing to challenge in a creative way this year?
A gender-equal world is important to me for many reasons. Religiously, a lot of people don't realise men and women are equal. Many blur the lines between religion and culture.
In Islam, women are allowed to 'trade' but culture highlights household chores to be the only forte a woman should focus on, which is incredibly infuriating. I, as a new mother, wife, and artist want to prove how I can continue doing what I love, while still managing a home and my son.

I was told that it would be impossible to carry on my practice, but I #choosetochallenge this notion .
Any advice for women launching a creative career / starting out in creative industries?
My advice to a woman launching a creative career would be just to enjoy every moment, the successful ones as well as the not so successful, as with each one we get to grow and learn more.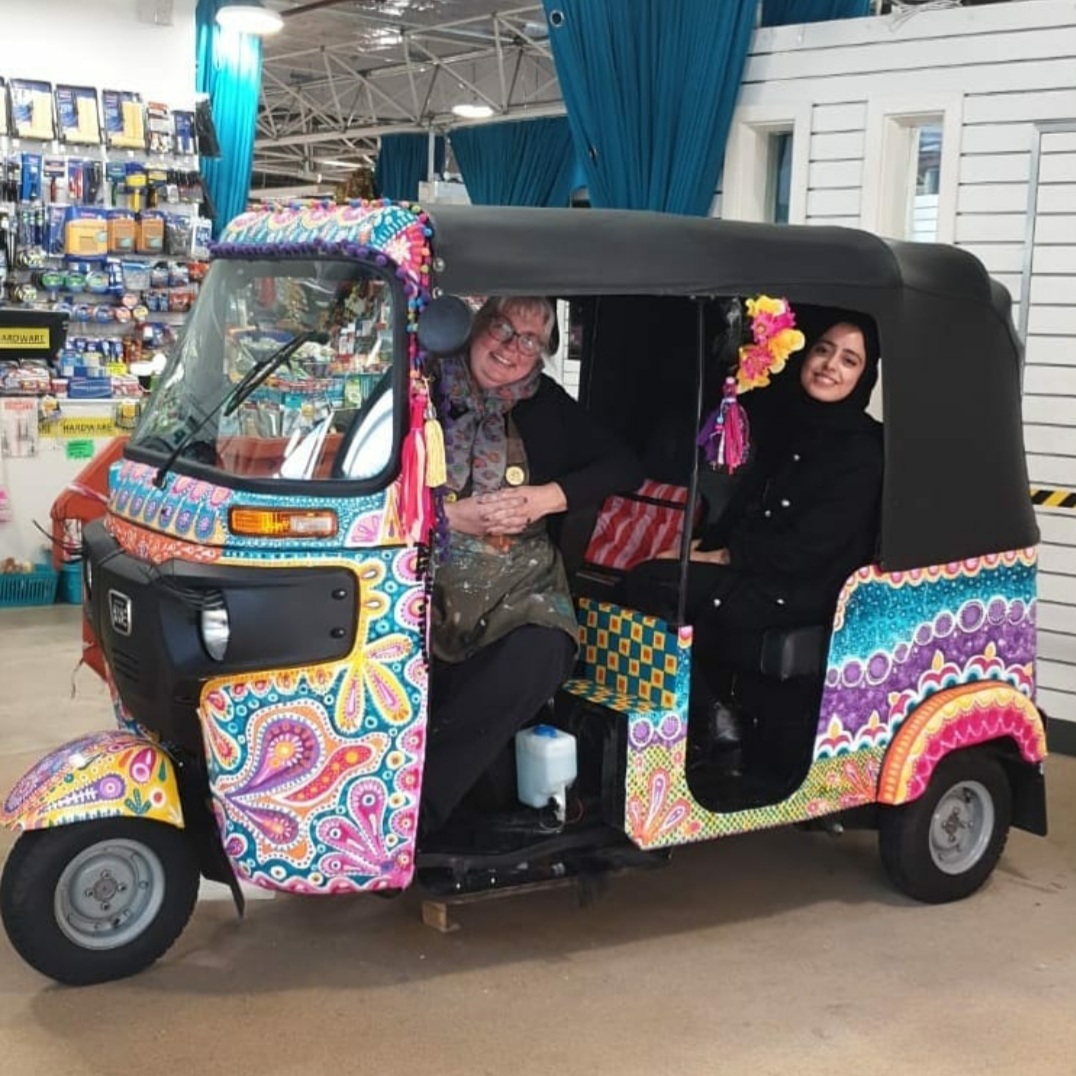 Sana Malvi with fellow-artist Cath Ford
How has working or spending time in Lancashire or the North shaped or informed what you do today?
Living in Lancashire has definitely shaped what I do. Firstly, my education was completed locally. I have a Lancaster University-validated degree, which was completed at the University of Blackburn College. It happened to have one of the best facilities and tutors for fine art. The Prism Gallery and Studios in Blackburn is also where I carried out my practice before the lockdown.
The Festival of Making is also based locally, which gave me a great advantage, as I've taken part in it in one way or another since it was initiated in 2017.
You can see more of Sana's work on Instagram.
Look out for more profiles featuring creative women from or connected to the county in articles throughout this week on our NEWS PAGE.
About International Women's Day - March 8, 2021
International Women's Day is a global day celebrating the social, economic, cultural and political achievements of women. The day also marks a call to action for accelerating gender parity. Significant activity is witnessed worldwide as groups come together to celebrate women's achievements or rally for women's equality. internationalwomensday.com