First tenants move into Strawberry Fields, Chorley's New Digital Hub
13 January 2020
The Strawberry Fields Digital Hub in Chorley is an £8.4m, 42,000 sq ft development, which will house creative and digital businesses. The first tenants to move in include Digital Lancashire, Azura Engineering and Soft Sell Online.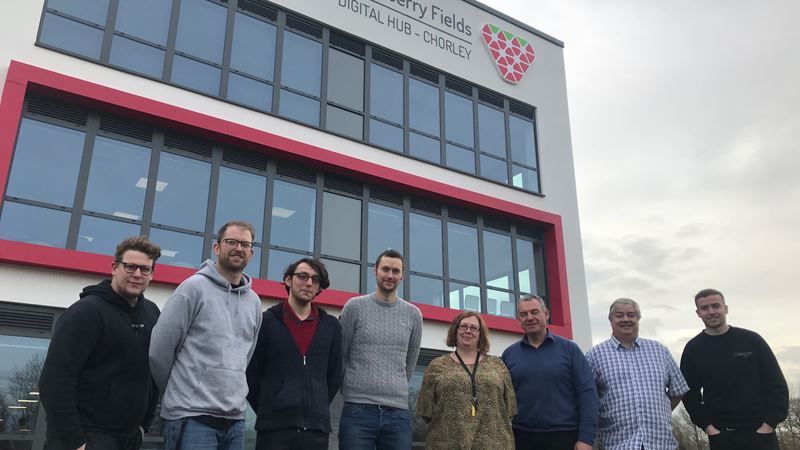 Strawberry Fields is owned and managed by Chorley Council, which secured £4.1m in grant from the European Regional Development Fund to build it.The development features state-of-the-art facilities and super fast broadband, on site digital business support and access to a university advisor.The aim is to facilitate the creation of hundreds of high value jobs in the digital sector.
Digital Lancashire are making Strawberry Fields their base and Duncan Sandford, managing director of Digital Lancashire, said: "This will really be a hub of activity whether it is events teaching new skills or collaboration between different businesses, which I'm really excited to see happen.
"It's also a great place for bringing together the industry and education and I can see lots of schools and colleges visiting to experience what it's like in the digital sector, which is growing all the time."
Neil Lyon, director at Azura Engineering, which provides hardware and software solutions for the automotive industry working for clients across the world including Ford, said: "I'd spend a lot of time travelling to Sheffield but being closer to home it means we can spend more time developing the products. We did look at Manchester but Chorley gives us a great location at a good price too."
Richard Whyte, software director at Soft Sell Online, said: "Moving here means we can expand our offices and take on new people but it's also nice to be in with a group of digital businesses. That opportunity to collaborate with them further down the line is really exciting."
This information is taken from a Lancashire Business View article written by Tim Alred - https://www.lancashirebusinessview.co.uk/latest-news-and-features/first-tenants-move-into-strawberry-fields.

For more info on Strawberry Fields, visit: https://strawberryfieldshub.com/