Crafting Business training programme launches for emerging makers
10 March 2021
Crafts Council UK have launched a new creative business training programme for emerging makers. 26 Participants will be selected to take part in Crafting Business, a free 4-month programme starting in May. Deadline to apply is 31st March 2021.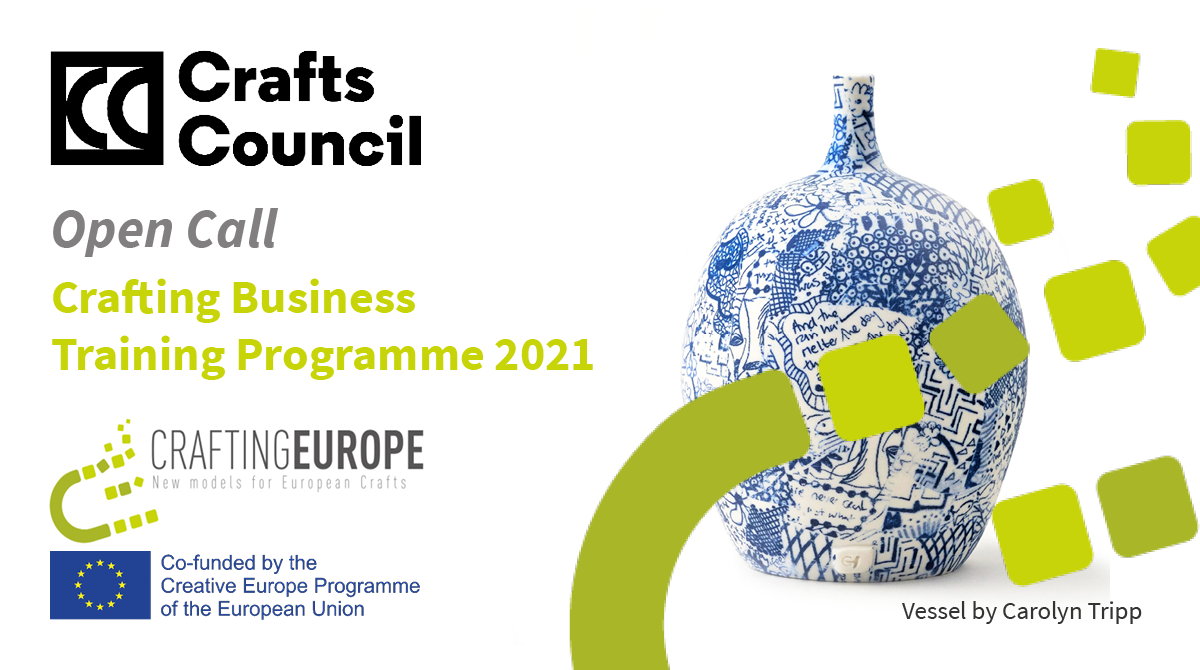 Have you got a business idea you need support with? Do you need help navigating the complexities of managing your finances, want to sharpen up your presentation skills, or know more about scaling up your business?

Crafting Business is part of a Crafting Europe project funded by Creative Europe. Eight countries (including the UK) will be delivering their own respective training programmes in 2021 supporting up to 200 makers across Europe. Read more about Crafting Europe
Who is the Crafting Business training programme for?
This training programme is for makers based in the UK who are just starting a new business – this is defined as when you start selling or when you sign up with HMRC. You could be a:
recent graduate
self-taught or attended short courses
a maker changing the direction of their business
The training programme includes
Eight modules delivered via workshops on Zoom, resources and self-directed learning from May to September 2021 that cover
Induction day
Business visioning and modelling
Finance
How to present you and your business
How to access funding support
Product development
Scaling enterprise and production options, access to international trade
Business plan presentation and reflections
Three group sessions covering
Mental health awareness
Identifying wants and needs
Peer-support coaching tips
Costs and benefits
Crafting Business is a free training programme for those selected. The value of the training is £2,500.
All selected participants will also be approved for the Crafts Council Directory and will be offered a two-year membership for the price of one year (£60 which can be paid monthly).
How to apply
There will be a short application form hosted on Survey Monkey Apply (an online application platform)
Once you create an account on Survey Monkey Apply there will be guidance withing the Crafting Business opportunity to help you submit your application.
You can submit a filmed description instead of written description and you can nominate someone to help you complete your application form.
We will be offering free short advice sessions between 1 – 31 March which you can book through the Crafting Business opportunity on Survey Monkey Apply.
The deadline for applications is 31 March.
For more information, visit the Crafts Council website and apply here.