British Textile Biennial: Cut from a different cloth!
06 October 2019 by Ed
The inaugural Biennial programme launches this month and highlights the nation's creation, innovation and expression in textiles against the backdrop of the impressive infrastructure of the cotton industry in Pennine Lancashire.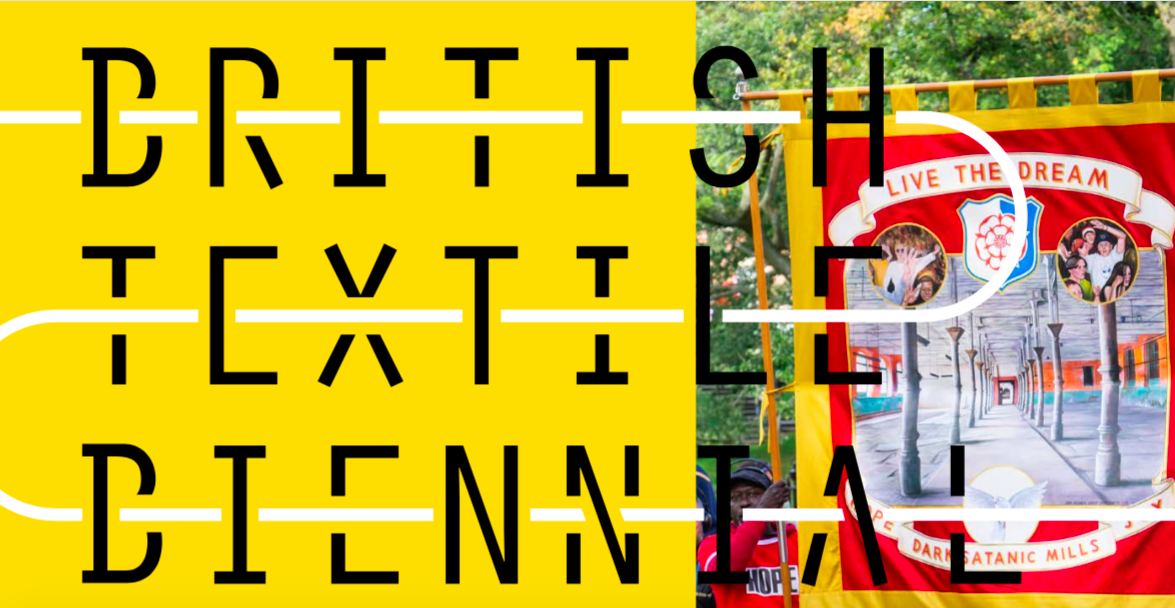 Cut from a different Cloth
The identity of Lancashire is crafted by its relationship to its textiles heritage. The Fabrications programme of 2017 curated by Laurie Peake the dynamic director at Super Slow Way, offered an artistic response to this industrial legacy. For Laurie and her talented team who've been developing artistic interventions woven into the social fabric of the area since 2014, Fabrications was also an opportunity to work with a host of local and global collaborators on an ambitious range of projects, from the small and intimate to large-scale international including preeminent artist Michael Brennand-Wood, to the global politics addressed by the METIS 'World Factory' theatre experience. Even prior to the success of Fabrications it was key to Super Slow Way's vision to establish it as a recurring biennial and a means of developing a social legacy for the future.
I don't think of heritage as history so much as what is in people's DNA. The response to Fabrications was so immediate and enthusiastic – a real eye-opener. The canal has been a really useful metaphor as well as a material resource and so have textiles, there's aesthetic qualities and possibilities in terms of evolution of modern methods of fabrication, scientific possibilities and digital outputs… (Laurie Peake 2017)
The vision is realised in the first British Textile Biennial (3 Oct – 3 Nov). The numerous festival presentations taking place through October is an opportunity to gain a deeper insight into the work and careers of some of the individuals collaborating to create the exhibits, events, performances, installations and workshops, and whose work is woven into the social fabric of the area.
One of those collaborators is Jamie Holman who is also the current artist in residence for British Textiles Biennial. Jamie presents Transform and escape the Dogs (Church St, Blackburn), a series of new works celebrating a history of radical gatherings where the working class youth of the north resisted, rejected, and finally reclaimed the spaces that cotton made and then abandoned. In his extended article for our festival publication, Politics of Collaboration, Jamie gives an insight into his process and the individuals he works with for his commission and in his wider practice as an artist. Read more here.
"Politics of cloth is the working title for my residency for British Textile Biennial Frequently the work I've made has been collaborative, and often fabricated outside of my own studio. The commission has been as much about the politics of collaboration, as it has been the politics of cloth… As a consequence, my studio is rarely just me working in isolation."
The festival showcases textile inspired work conceived locally and created in-between festival years, as well as commissions by national and international artists including Alice Kettle's Thread Bearing Witness (Gawthorpe Hall), a series of large-scale embroideries that represents a moving reflection on cultural heritage, refugee displacement and movement. Alice also features in a conversation with artist and researcher Gemma Potter (17 Oct – Padiham Town Hall), where she will share her creative inspirations and journey to establishing her global reputation as a highly regarded contemporary artist.
Politics feature prominently on other highlights from our talks programme. Leading fashion historian and broadcaster, Amber Butchart, leads a panel discussion exploring fashion and textiles as an expression of contemporary activism at Blackburn Museum & Art Gallery (30 Oct). On the day that Britain may be exiting the European Community, we return to the museum for an extended roundtable with Business of Fashion, Textiles and Technology (BFTT), to share and discuss initial findings to the recent nationwide industry consultation to help shape the future sustainable development of fashion and textiles in the UK. Contributors include Lipi Bugum (Research Fellow, London College of Fashion, UAL) and representatives from all aspects of the textiles ecosystem including leading industrialists, sector bodies and academic institutions (31 Oct).
By the end of the 19th century the area, stretching along the Leeds & Liverpool Canal, produced 85% of the world's cotton goods. It was a global trade that brought workers to the region to fuel the mill industries, building a creative, industrious and diverse population that shapes the area today. Maybe that's why so many of the artists and makers featured in this publication constantly strive to innovate through exploring new ways to tell stories and experimentation with material. They are cut from a different cloth. Whether it's through collaboration with international artists relating to textile production and related craft, when viewed through an artist's creative lens exists the potential for the new and unexpected.
"It's what is in the DNA".

Ed Matthews-Gentle FRSA
Creative Lancashire