Think Differently Sprints by Lancashire Forum Creative
Monday 26th August 2019 08:00 AM to 08:00 PM
Creative Innovation Zone (ME414), UCLan Media Factory, Kirkham Street, Preston, PR1 2XQ

Back
Lancashire Forum Creative & Think Differently brings to you, a one-day hands-on experience to; Explore, Accelerate and Innovate ideas that will Disrupt and Transform your business.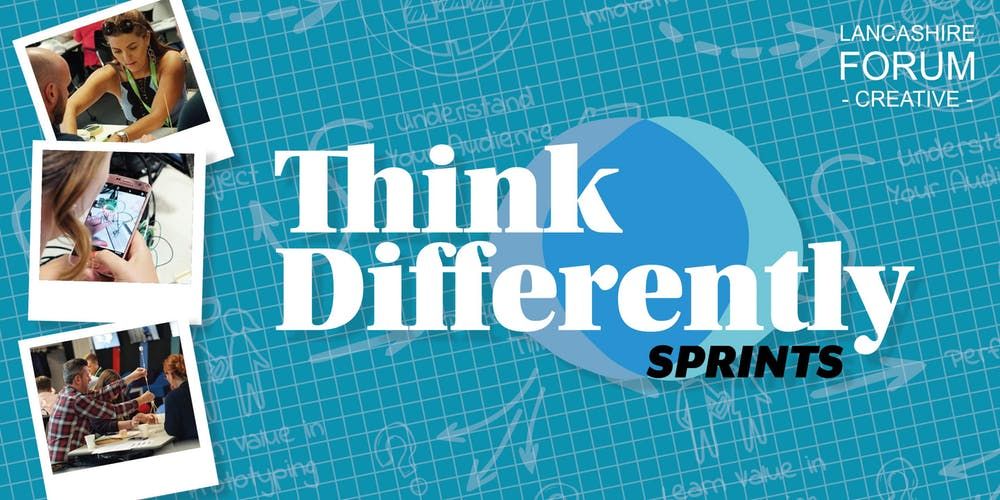 You are invited to join Lancashire Forum Creative and the Media Innovation Studio's Think Differently Sprint on Thursday 26 September 2019 from 8am to 8pm. We promise you a hands-on workshop experience to explore, accelerate and innovate ideas that will disrupt and transform your business (in a good way!).
The Think Differently Sprint will introduce to you a new way of looking at and developing ideas, services and products that you will be able to use in your business. The methodology was developed by Google Ventures and many agencies across the globe have adopted their own approaches to create a tool for innovation and problem-solving. These sprints all have ideation, prototyping, testing and refining at their core.
Why should I attend?
Every business needs to be agile, flexible and ready to react to challenges and opportunities. Sprints help you develop and rethink ideas, understand customer needs, conduct research and development more effectively and explore new paths for new products and services.
The sprint involves:
Pre-workshop support to establish your needs, aims, and goals;
A one-day workshop where you'll gain hands-on insights into the sprint processes like ideation and prototyping;
A bespoke toolkit and strategy document tailored to your business needs and a sample of the tools needed to support you in running your own sprints.
Who is running it?
Lancashire Forum Creative asked our colleagues Dr. Mark Lochrie and Gareth West to develop a unique version of the sprint process. Both Mark and Gareth have extensive industry and academic experience which means the process is tuned to the needs of SMEs. Mark has design sprint certified status from AJ & Smarts.
Where can I read more about the original Design Sprint?
We have based all our original concepts from this book - Sprint: How To Solve Big Problems and Test New Ideas in Just Five Days written by Jake Knapp the creator of the Design Sprint methodology.
What do I need to bring with me?
Just yourself and a good understanding of your business and customers;
Enthusiasm and openness to explore new ways of working;
Team members and people from your network are also welcome.
Breakfast, lunch and dinner are provided so please let us know how many of you there will be.
How do I sign up?
If you want to register or find out more please contact Juliane Lowe at lancashireforum@uclan.ac.uk or go to https://lfc-thinkdifferentlysprint.eventbrite.co.uk