Society1 Skills Scrum. Kick the Sugar Habit with Paula Moore
Friday 24th January 2020 10:00 AM to 12:00 PM
Society1. 9-10 Cross Street. Preston. PR1 3LT

Back
The next in our Skills Scrum series is: Kick the Sugar Habit. Brought to you by Paula Moore in association with Society1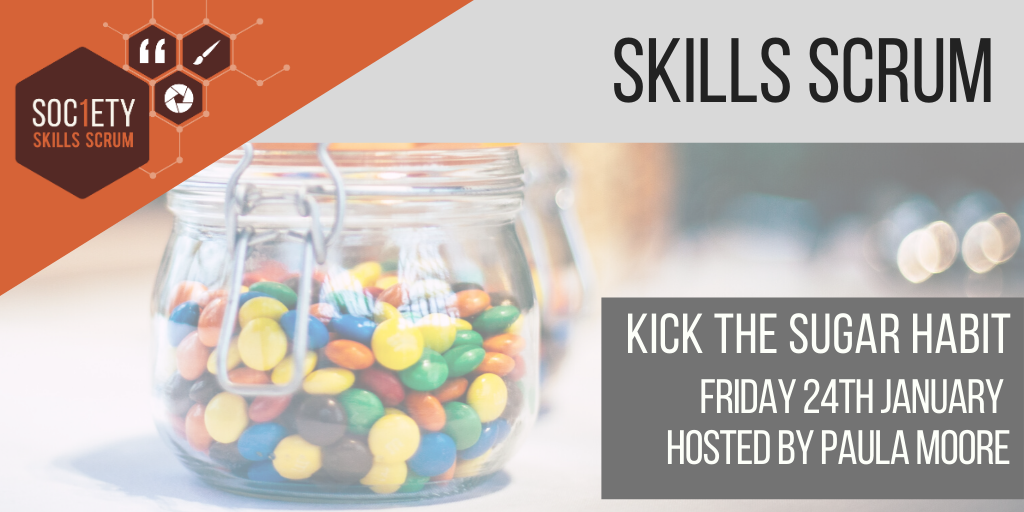 Introducing Society 1 Skills Scrum
These bite-sized learning sessions cover simple topics in practical ways, which you can easily apply to support you and your business. Regular in house sessions at Society1 hosted by members and friends of the Society1 Community, you don't have to be a member to attend simply sign up for the session via this link. Places are limited and courses are popular so we do ask if you find you cannot attend please let us know so someone else can take your place.
They are small focused groups designed to be help and support you in a specific area within your business.
The next in our Skills Scrum series is:
Kick the Sugar Habit.
Brought to you by Paula Moore in association with Society1
Event Information:
Wondering why you crave sugar?
Ready to know what works and what doesn't?
There are 3 main challenges to kicking the sugar habit. Come and join us to explore the why, the science and what else is going on which has you reaching for the sugar.
Most importantly, learn simple steps to follow to get you off the sugar roller-coaster and experience your best body, best mood and best life ever for the new year ahead.
What we eat affects our mood, energy level and focus which can impact our effectiveness to perform. Come and join us for this Skills Scrum to see how Kicking the Sugar can help you reach your potential.
Plus, attendees will receive a free double your energy guide.
Who is this bitesized leaning session for:
Busy professionals looking for ways to increase their personal potential by having the right diet. Attendees should be open and ready to think about ways they can change their own diet. This will be a fun, interactive session so feel at ease to relax and enjoy this Skills Scrum at Society1.