BRITISH TEXTILE BIENNIAL TALKS 2019: Sew What? with Amber Butchart
Wednesday 30th October 2019 06:00 PM to 08:00 PM
Victorian Gallery, Blackburn Museum & Art Gallery, Museum Street, BB1 7AJ

Back
Fashion historian and broadcaster, Amber Butchart, leads a panel exploring the portrayal of ideas and activism in fashion and textiles and its relationship with culture.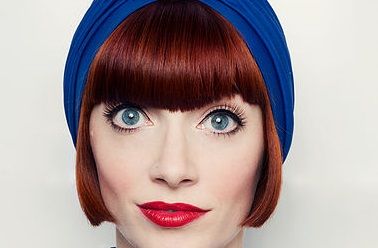 Creative Lancashire in association with British Textile Biennial
SEW WHAT? Fashion & textiles as an expression of contemporary activism.
with
Amber Butchart
Aziz Ibrahim
Craig Oldham
Emma Shankland
Jamie Holman
Raisa Kabir
Date: Wednesday 30 October
Time: 6-8pm (Registration from 5.30)
Venue: Victorian Gallery, Blackburn Museum & Art Gallery, Museum Street, BB1 7AJ
This panel discussion led by fashion historian, author and broadcaster, Amber Butchart explores how through time, fashion and textiles is frequently appropriated as a platform to highlight protest, politics, cultural movements of change and a powerful self-expression of ideas. From utility workwear on the French boulevards to the re-emergence of the hoodie as the 'ultimate symbol of exclusion and menace' - individually and collectively we articulate our voices through stitched messagery or the decisions we make about what we wear.
Biographies:
Amber Butchart specialises in the historical intersections between dress, politics and culture. She has written books on the perennial influence of nautical dress and the impact of film on fashion, and she is regularly asked to speak at cultural hotspots from the Tate to the V&A. Amber recently presented A Stitch in Time, a six-part series on BBC Four that fused biography, art and the history of fashion to explore the lives of historical figures through the clothes they wore.
Respected musician and artist Aziz Ibrahim was born in Longsight, Manchester of Pakistani parents. His latest project "EWP, The East West Proletariat" comes from sharing strong emotional responses to both the Peterloo massacre of 1819 in the town of his birth, and the Jallianwala Bagh massacre also known as the Amritsar massacre in 1919. The recent commission for the Peterloo Festival (August 2019), included musical performance, and especially created banners and armbands worn by those in the possession, struck by how armbands are still widely used as a utilitarian symbol of recognition - evocative as a symbol of grief and as provocative as a political statement.
In Craig Oldham's book 'In Loving Memory of Work', the designer created a visual record and testament to the creative and cultural dissent of the working class miners, their wives, families, communities and sympathisers, against the Thatcher Conservative Government during the 1984-85 miners' strike including the banners, and t-shirts that now act as a reminder of the dissent, heroism and continued fight for justice. In his second book 'I Belong To Jesus': Craig explores the under-shirt celebration. of players in a response to the FIFA announcement that players would no longer be permitted to display or reveal messages of any kind, on any part of their kit under any circumstances—even if their intention was good.
Emma Shankland is currently enjoying the unexpected revelations to be found in the art of hand embroidery. By equal measures the restrictive and enabling nature of hand embroidery forces the narrative to appear cautiously. This slow reveal has turned out to be the ideal gateway to encourage a lack of inhibition and facilitate a freedom of expression not previously realised.
Jamie Holman is a non-executive director of The National Festival of Making, a director of PRISM Contemporary Gallery & Studios, and is currently artist in residence for The British Textiles Biennial. Transform and escape the Dogs is a series of new works by the artist celebrating a history of radical gatherings where the working class youth of the north resisted, rejected, and finally reclaimed the spaces that cotton made and then abandoned. From Malkin tower to Mill Hill; a defiant history of witches, hand loom poets, blacksmith painters, football casuals, and pioneer film makers, challenging accepted notions of textiles heritage, and of those people and events that have shaped us. These works propose a counter narrative of creativity, rebellion, and magic; exploring the real Industrial Revolution, a revolution of the soul that seeks to remind us: 'when we gather, we become powerful. We cannot be kept down.
Raisa Kabir is an interdisciplinary artist and weaver, who utilises woven text/textiles, sound, video and performance to materialise concepts concerning the politics of cloth, labour and embodied geographies. Her (un)weaving performances comment on power, production, disability and the body as a living archive of collective trauma. She has participated in residencies and exhibited work at The Whitworth, The Tetley, Raven Row, Cove Park, Textile Arts Center NYC, and the Center for Craft Creativity and Design U.S. Her research into non mechanical looms, bodies and machines, has taken her to Mexico and Bangladesh.

FREE to attend – Pre registration essential via Eventbrite
DOWNLOAD TALKS PUBLICATION

To read interviews and find out more about our presentations for British Textile Biennial Download our talks publication here.
BRITISH TEXTILE BIENNIAL 2019
The first British Textile Biennial throws a spotlight on the nation's creativity, innovation and expression in textiles against the backdrop of the impressive infrastructure of the cotton industry in Pennine Lancashire.
Throughout October 2019 we look at fabric as a means of expression; exploring textiles as a vehicle for protest and cultural identity in installations, performances and art works that take a dynamic look at our relationship with that most basic and ancient of human creations, cloth.
For more information and full programme of exhibits, events, performances, installations, talks and workshops visit the dedicated website: