Bowland Hare: a story sculpture Halloween adventure
Sunday 31st October 2021 01:00 PM to 03:00 AM
Stephen Park, Gisburn Forest Hub - Meet us from 1 pm at the Hub Café - BB7 4TS

Back
Sculptor Marjan Wouda and storyteller Jacqueline Harris will celebrate the hare in Lancashire folklore and landscape through art and story at Gisburn Forest.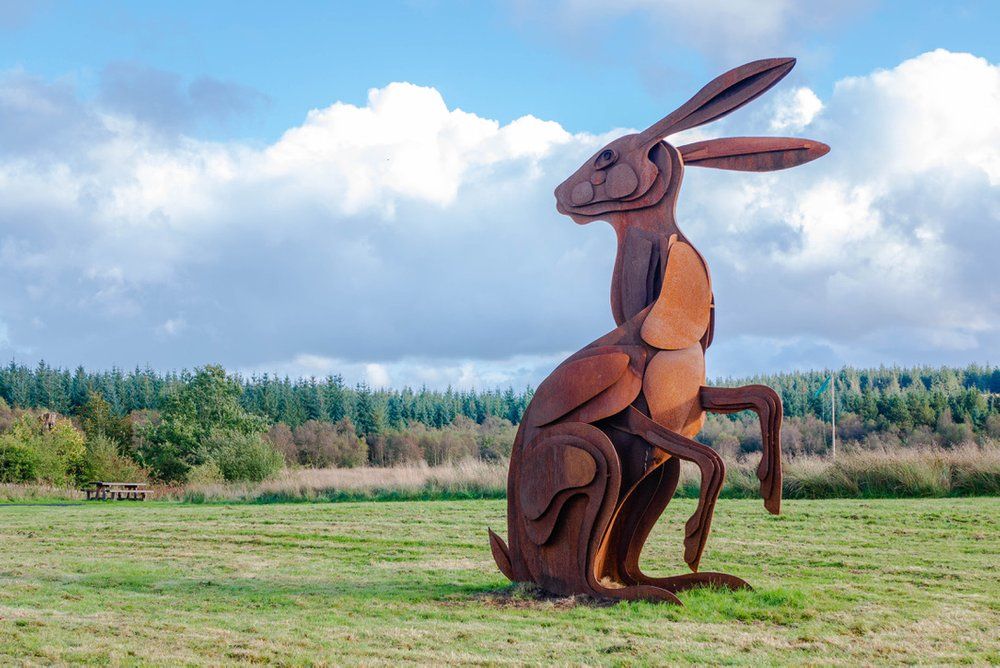 Lancashire folklore explored in the forest through art and story
At the foot of a 3.6 m. sculpture and around a fire pit in the woods, they will explore the significance of the hare in Lancashire folklore and the Forest of Bowland. They will tell the story of the White Dobbie – a story from across Morecambe Bay of ghostly encounters of a spectre and his creature companion – and the creation of their first book in the Storylore series. This event will allow visitors glimpses of the stories, books and sculptures the duo are developing.
A passion for Lancashire folklore, for the landscape and the stories that it inspired, brought Marjan and Jacqueline together. Their belief that these stories are relevant today and that they have the power to enrich our lives has inspired them to explore, re-imagine and recreate them through word, sculpture, drawing, print, painting and the making of books.
Marjan Wouda: "My dream is to return the most powerful story characters in sculptural form to the places that inspired it. To bring them back into our consciousness and provoke us to be more aware of our environment."
"I love the adventure of engaging with materials and allowing them their voice. I am also really interested in animals; in their various forms and in what they mean to us. As a sculptor I am always on the look-out for subjects that are mysteriously compelling, and I often find these in folkloric stories, and often too in the places that inspired those stories.
Jacqueline Harris: "We are aiming to create a series of beautiful books which will immerse the reader into new landscapes and celebrate these timeless Lancashire stories that deserve to be remembered. We want to get to the very heart of each of these stories of place by telling them with words and images in equal measure, leaving lots of space for the imagination."
Marjan Wouda is a sculptor and visual artist, originally from the Netherlands, but now also firmly rooted in Lancashire. She trained in London and Manchester and has her work spread from New Zealand to the Caribbean and from Hong Kong to the US.
marjanwouda.com
Jacqueline Harris is a writer, storyteller, and theatre maker, creating work that explores the part that stories play in our lives. She also collects folktales and real-life stories as she travels and collaborates with other artists to experiment with new ways of telling stories.
storywheel.co.uk