BRITISH TEXTILE BIENNIAL TALKS 2019: Conversations in Creativity: Alice Kettle
Thursday 17th October 2019 05:00 PM to 07:00 PM
The Council Chamber, Padiham Town Hall, 83 Burnley Road, Padiham, Burnley BB12 8BL

Back
Gain a deeper understanding of the themes that informed Alice Kettle's work and an insight into the inspirations from her journey to establishing her global reputation.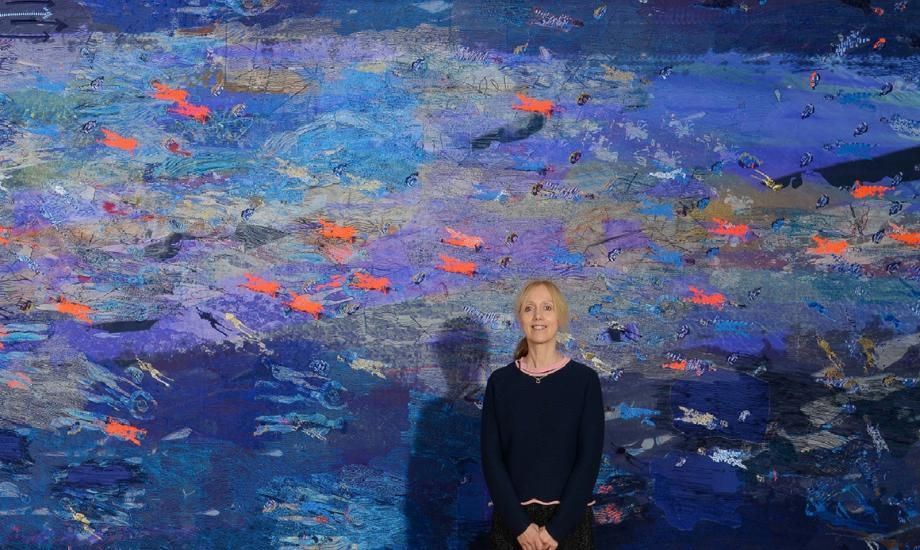 THIS EVENT IS NOW SOLD OUT
Creative Lancashire in association with British Textile Biennial
Conversations in Creativity: Alice Kettle
with Host: Gemma Potter
Date: Thursday 17 October 2019
Time: 5-7pm (Registration from 4.30pm)
Venue: The Council Chamber, Padiham Town Hall, 83 Burnley Road, Padiham, Burnley BB12 8BL

One of the highlights of British Textile Biennial is Alice Kettle's Thread Bearing Witness, a series of large-scale embroideries that represents a moving reflection on cultural heritage, refugee displacement and movement.
You are invited to gain a deeper understanding of the themes that informed the work. Alice will also share insights and inspirations from her journey to establishing her global reputation as a highly regarded contemporary artist focused upon stitched textiles, as a powerful medium to explore these ideas.
In conversation with Gemma Potter, inter-disciplinary artist and researcher at Manchester Metropolitan University.
Includes free shuttle bus service between Burnley Manchester Road Train Station, Padiham Town Hall and exhibition at Gawthorpe Hall (Last admission to exhibition - 4pm)
Biography:
Alice Kettle is a contemporary textile/fibre artist based in the UK and has established an internationally regarded unique area of practice. Her stitched works, many the size of huge figurative tapestries, exploit the textures and effects made possible through the harnessing of a mechanical process to intuitive, conceptual and creative ends. Her works use thread as a drawing tool and as a means to narrate contemporary events, often in large scale participatory collaborative projects. Alice is Professor in Textile Arts at Manchester School of Art, Manchester Metropolitan University. She is also Visiting Professor at the University of Winchester and Chair of the Embroiderers Guild. Her work is represented in various public collections including the Crafts Council London, the Whitworth in Manchester, Museo Internationale delle Arti Applicate Oggi, Turin, Italy, Museum of Decorative Art and Design, Riga, Latvia. Commissions include the National Library of Australia, The Scottish High Court in Edinburgh, Gloucester and Winchester Cathedrals, Winchester Discovery Centre, Lloyd's Register and the School of Music & Drama at Manchester University. She has co authored Hand Stitch Perspectives, Machine Stitch Perspectives, Collaboration through Craft, The Erotic Cloth with Bloomsbury and Making Stories Ibook with Electricimprint. www.alicekettle.co.uk
Gemma Potter is a participatory maker currently exploring our understanding of skill and craft expertise in digital gaming through a PhD at Manchester Metropolitan University. Interested in the transformative qualities of making, her work often seeks to engage the public via the intersections of material craft and digital technology. As part AHRC funded Transformation North West, Gemma's research seeks to understand the value of creating synergies between craft and gaming for industry in the North West, currently working with Blackburn based clothing manufacturer Cookson & Clegg. gemmamaypotter.co.uk/patterncraft
FREE to attend – Pre registration for artist talk and shuttle bus service to/from exhibition essential via Eventbrite
SHUTTLE BUS SCHEDULE:

Shuttle Bus from Burnley Manchester Road to Gawthorpe Hall & Padiham Town Hall Departs: 13.25, 14.10, 15.25 & 16.10
Shuttle Bus from Padiham Town Hall to Burnley Manchester Road Departs:19.10 & 19.45 (Times are approximate)
To read interviews and find out more about our presentations for British Textile Biennial Download our talks publication here.
BRITISH TEXTILE BIENNIAL 2019
The first British Textile Biennial throws a spotlight on the nation's creativity, innovation and expression in textiles against the backdrop of the impressive infrastructure of the cotton industry in Pennine Lancashire.
Throughout October 2019 we look at fabric as a means of expression; exploring textiles as a vehicle for protest and cultural identity in installations, performances and art works that take a dynamic look at our relationship with that most basic and ancient of human creations, cloth.
For more information and full programme of exhibits, events, performances, installations, talks and workshops visit the dedicated website: